One of the great roses for rose hips is Rosa sweginzowii Macrocarpa, this is a species rose that also happens to have very attractive flowers and great deep green foliage.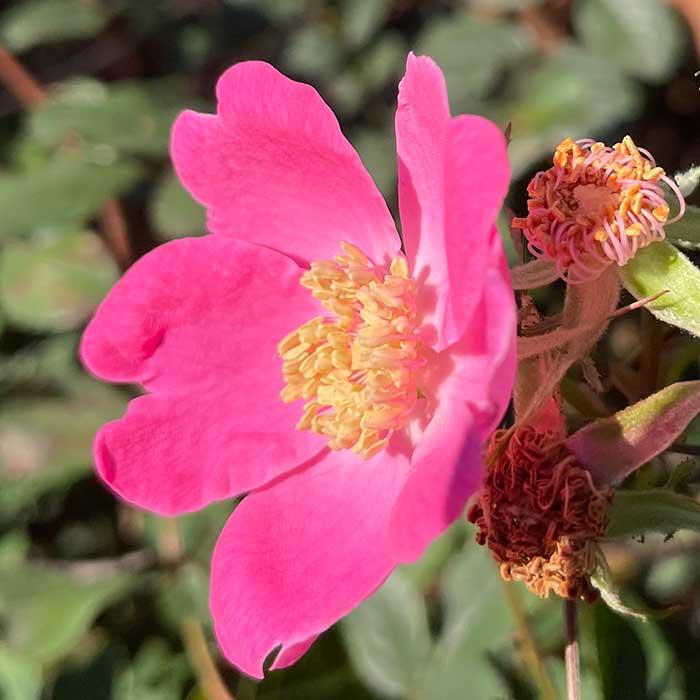 Rosa sweginzowii is native to Northwest China it grows well in  a sunny to  partly shady position and prefers a well drained soil with some moisture It will tolerate frosts and low temperatures. Thick stems and large thorns are characteristic. 
The rose hips are orange to red and if you open them you will find the seeds and the pulp. It is not recommended to eat the fruit as the small seeds have fine hairs on them and they are in the pulp as well,  these can irritate the digestive system the French call them "gratte-cul," which means "butt scratch" so you get the idea.
The main flowering period is in mid to late spring the flowers are a very attractive mauve to pink colour, and they are a standout against the deep green foliage, although this is not a repeat flowering rose it can spot flower right through summer.
This is a species rose so falls into the Heritage and Old Fashioned Rose in many ways.
How to grow Rosa sweginzowii
This is a large rose, easily reaching 3m in height, the foliage is dense so not much grows beneath it. If you have the space, or want an impenetrable hedge (as this rose does have large thorns), that gives you flowers as well as rose hips, this is one to consider.
Choose a position where the rose has space to grow.
Dig the soil over well adding some compost and cow manure to poorer soils
Plant the rose and water in well.
Mulch around the rose to maintain a cool moist root run
Water through dry periods over the first few summer until established.
Description
Very attractive open cerise pink flowers, small deep green foliage, flowers followed by orange to red rose hips
Growth habit
A vigorous dense growing shrub, large growing to 3m plus (9ft plus) in height spread to around 3m – 4m (9-12ft) in width, thorny and once flowering.

Soil
Any well drained soil, humus rich is best. Mulch around new plants to retain some moisture.

Fertilizer
In most good soils regular fertilising is not need. An application of slow release organic type fertilizer every 2 – 4 year should be sufficient.

Position
Full sun to a little afternoon shade

Pruning Rosa sweginzowii
Pruning can be carried out as with any rose, remove wayward canes as needed and any old dead wood. HOWEVER in our experience, Rosa sweginzowii does not respond that well to heavy pruning.