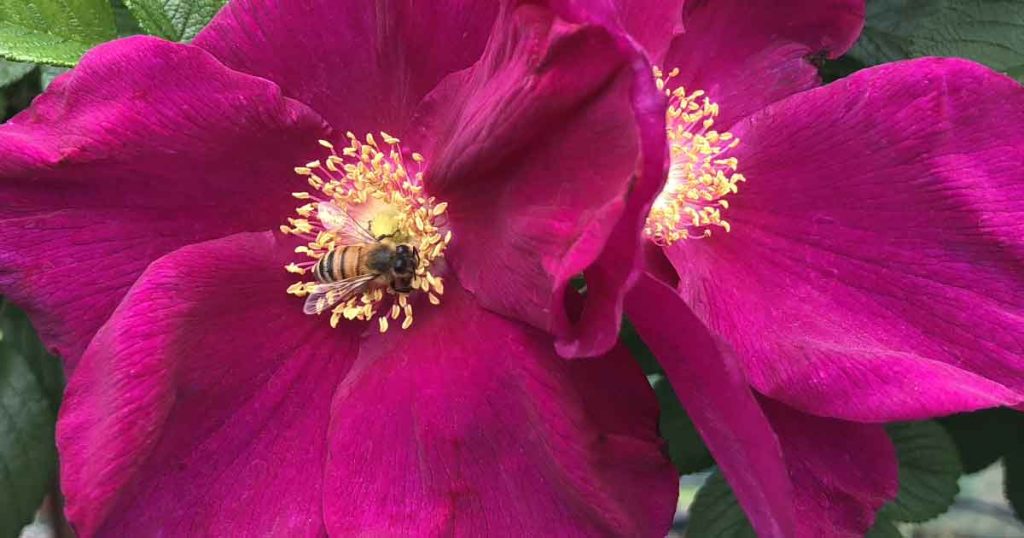 Rugosa roses are a group of old fashioned hardy roses that make a great hedge and also produce colourful rose hips.
Also known as the Beach Rose and Sea Spray Rose, these common names give us an idea of its hardy nature.
Another common name is the Japanese Rose, as they are found on the coastal sand dunes of Northern Japan and Siberia. So they are also cold hardy. Being very adaptable, they will grow well in most USDA climate zones.
It is the named hybrids that are popular, blooms range from white through to pinks reds and purples.
The foliage is textured or wrinkled and the large rose hips can reach the size of small crab apples. Sometimes called Rugosa rose fruit, these rosehips are used for making tea, in cosmetics and herbal uses as well.
They are thorny rose and as such make a great barrier hedge.
Care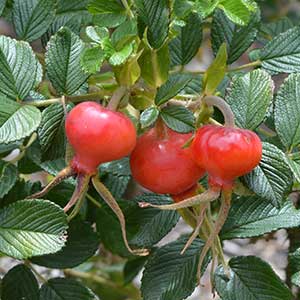 These are a low maintenance shrub once established. Generally only remedial pruning is required.
The Rugosa rose bush can be pruned to size and shape in early spring if needed.
A yearly application of a specialist rose fertiliser, with an additional application of compost and mulch will generally keep the plant growing well.
How to Grow a Rugosa Rose Hedge:
These are a favourite hedge in rural areas. They have foliage that gives good fall colour, require little care and maintenance once established and produce those wonderful flowers and rose hips.
Choose a sunny position in a well drained soil.
Prepare the soil by digging over well and adding some well rotted compost. A little aged manure will also be beneficial.
Soak the rose roots in a diluted liquid seaweed mixture for 12 hours before planting.
Remove the rose any damaged roots.
For a dense hedge plant the roses at around 5 ft apart.
Water in well and mulch around the plants.
Water regularly through the first summer
Propagation
Although this rose can be grown from both softwood and hardwood cuttings it can be a little difficult to strike successfully. Uses a rooting hormone to improve strike rate.
Pruning Rugosa Roses
Pruning is the same for all Rugosa Type Roses. For the first few years little pruning will be required. After that remove 1/3 of the overall growth and 1/4 of the oldest canes.
Rugosa Varieties