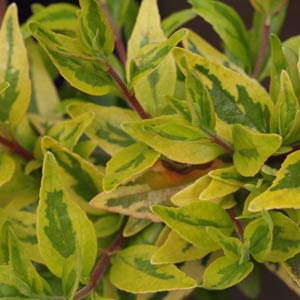 Abelia are small to medium sized shrubs, deciduous native to semi evergreen clumping shrub from both Asia and North America with Abelia grandiflora (glossy Abelia) and Dwarf varieties being popular.
Grown for the attractive flowers that appear on long arching stems, they are easy to grow however are not suited to some of the colder USDA zones
Abelia kaleidoscope is a new release and is a compact variegated form. Abelia x grandiflora 'Variegata' (picture right) is an attractive cultivar. Flowers appear in spring and attract butterflies, bees and birds.
Some species are evergreen, however cold climate most are deciduous.
Abelia are attractive to butterflies and will grow best in a humus rich well drained soil.
Care
General Care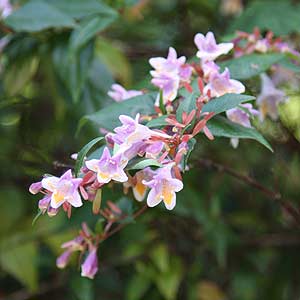 These are a hardy plant and cope well with poor soils and low water once established. For best performance try these steps.
Best suited to zonesUSDA 6 – 9. Abelias will be evergreen in the warmer zones 7 and warmer.
When planting choose a well drained soil and a position in full sun to afternoon shade.
Dig in some well rotted compost before planting.
Water in with a liquid seaweed fertilizer.
Provide moisture through the first summer until the root system is established.
Apply a slow release fertilizer every 2 – 3 years.
Mulch around plants in spring to maintain a cool root run.
Pruning
As Abelias can become a little leggy over time they will require pruning, this will also force new growth that will produce more flowers for the next season.
It is tempting to just get out the shears and prune them back to size, however this can cause a few problems.
You are best not to shear them back to ball shape as this causes die back and it will also cause water shoots. So you will have long shoots coming from a ball of foliage. Not the best look for an Abelia.
Look for the longest stems and cut them back to the ground to help reduce the size, however you can still get long water shoots. You just need to wait until they settle in.
You can remove the longer branches that touch the ground and then some of the longer curved branches. The best time to prune is in summer right after flowering.
You can give older plants a new lease of life by hard pruning, this is best done early in the growing season, in spring as soon as new growth commences.
The easiest way to prune these shrubs is to hard prune them every 4 – 5 years.
Varieties
Abelia x grandiflora 'Edward Goucher' is one of the more compact varieties that will reach around 4 – 5 ft. White flowers and good green foliage.
Abelia 'Kaleidoscope' is one of the newer cultivars with great variegated foliage, green with golden yellow centres. White flowers have a slight fragrance.
Abelia schumanii is a pink flowering form.
Propagation
Propagation is easy by taking softwood cuttings in late spring, semi hardwood cuttings in fall are also suitable, best wintered in a cold frame.