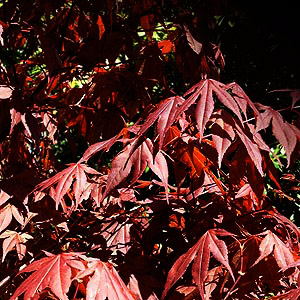 One of the faster growing Japanese Maples Acer palmatum atropurpureum 'Bloodgood' is also one of the best purple leafed varieties.
With a good upright habit, over time it will reach a height of 25 – 35 ft, however usually less in cultivation and often stated at 15 – 25 ft. However, in ideal conditions, taller.
Growth rate is fast for a Japanese Maple, often reaching 10 – 12 ft in to years. In an open position it will develop a broad crown, equal to its height, making it a useful small shade tree.
The foliage is a deep burgundy through the season turning a brilliant crimson in fall.
Care
Best grown in full sun to light afternoon shade Acer palmatum atropurpureum 'Bloodgood' is seen as suited to USDA zones 5 – 8. The warmer the climate, sy through to zone 9 the more shade in the afternoon.
A cultivar first imported from Japan and grown in the Netherlands, however named after Bloodgood Nursery back in the early 1800s who most likely first imported the plant.
In warmer climates or dry summers supplementary watering may be required. water,
Although this not a small tree, it can be successfully grown in a container for many years. Container growth will limit size to some extent.
Pruning
Pruning is rarely required as with most Japanese Maples growth habit is tidy and attractive. Any dead or damaged wood can be pruned back as required.
More Japanese Maples
Acer palmatum Trompenburg
Acer palmatum 'Sango Kaku'
Acer palmatum atropurpureum 'Bloodgood'
Acer palmatum 'Eddisbury'
Acer japonicum 'Vitifolium'
Japanese Maples For Sale
Dwarf Japanese Maples