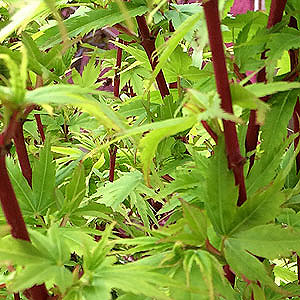 With attractive coral red stems, Acer palmatum 'Eddisbury' is a maple for all seasons.
The foliage emerges a bronze green in early spring, a good mid green foliage from spring through summer, good red to yellow and orange color in Fall and the stems in winter are a deeper red than most of the other 'Coral Bark Maples'.
The colors will vary according to the climate, with more intensity in the colder zones, one of the many advantages of cold climate gardens.
Yes it is a similar tree to Sango kaku, however the color is regarded as better by most gardeners.
Reaching around 12 -15 ft (4 -5 m) in height, this is a wonderful tree for small to medium sized gardens. Although the red stems in winter are a standout, the contrast between the new foliage and red stems in spring, to us is a highlight.
Care
Acer palmatum 'Eddisbury' performs best in full sun in an open position, yet protected from strong winds.This will give the best colors and tree form.
Partial shade may be alright in warmer climates, however a crowded position is not the best location.
Larger trees can be transplanted, however only in winter when dormant, and best done professionally with a good root balling machine.
Regarded as hardy to USDA Zone 5
More Japanese Maples
Acer palmatum Trompenburg
Acer palmatum 'Sango Kaku'
Acer palmatum atropurpureum 'Bloodgood'
Acer palmatum 'Eddisbury'
Acer japonicum 'Vitifolium'
Japanese Maples For Sale
Dwarf Japanese Maples
Where To Buy
---
BUCHOLZ & BUCHOLZ NURSERY
41840 SW Vandehey Rd.
Gaston, OR 97119
DAVIDSANS JAPANESE MAPLES
919 S Farmingdale Rd New Berlin IL
phone : 217 303-2641
KIGI NURSERY
121 Noble Ridge Dr Kelso WA
phone 360 425-0541