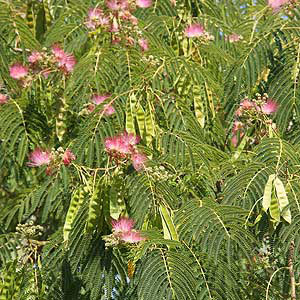 A tree with many names, Albizia julibrissin is commonly called the "Silk Tree' or 'Mimosa Tree'.This is a deciduous tree originally from Japan and Asia.
The green feathery or ferny foliage is attractive, and long silky flower stamens in creamy white to pinks like little 'pom poms' in summer make this a real feature tree.
Being naturally small growing they make as excellent as a shade tree, small street tree or screen tree.
Care
Albizia like a position in full sun, and a prefer a well drained soil, they are regarded as hardy and drought tolerant, and may be espaliered for an interesting effect.
Those living in colder zones, will find Albizia julibrissin difficult to grow well, and even if it does grow, it may well not flower.
One of the problems with the tree is the seeds pods, it is a tree that can become weedy and should not be planted near forests etc.
Summary
Height – 18 – 53 ft
Spread – 12 + ft
Growth Rate – Medium
USDA Zones 6 -9
Varieties
Albizzia 'Summer Chocolate' is a purple leafed cultivar.