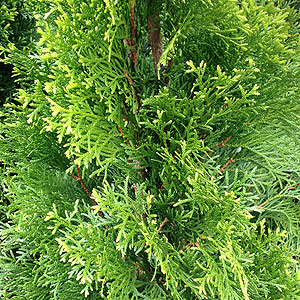 The Green arborvitae or 'Thuja occidentals' is just one of a number of varieties widely used in landscaping. While the green arborvitae is widely used as a hedging or screening plant, other varieties have good landscaping applications.
The Green arborvitae is a fast growing variety at a rate of 4-5 ft year in good conditions. Green Arborvitae will reach 30 – 35 ft and as a tall screening plant is highly regarded.
Natural growth habit of Green arborvitae or 'Thuja occidentals' is to form a nice tight pyramid, and Green Arborvitae do well in full sun and cope with a range of soil conditions including damp areas.
Foliage can yellow in winter in cold areas. Look for Globe Arborvitae a dwarf cultivar that will reach only 4 -5 ft depending on cultivar and conditions.
Care
General Care
Best grown in full sun to part shade arborvitae are a fairly hardy tree and once established require little extra care. The green arborvitae if prefered in colder climates to other conifer species.
Pruning
Regular pruning will maintain a good size and shape. It also prolongs life and by removal of any dead or diseased wood prevents problems form occurring later on.
Problems
Yellowing of Emerald Green Arborvitae.
This is symptomatic of root problems caused by poor drainage.
Leaf drop
A small amount of leaf drop in fall is usual. If the leaves are brown at other times of the year, check for spider mite.
Brown foliage in summer
This can be leaf scorch
Split trunk
This can be caused by sudden freezes
Varieties
Arborvitae Berckmans Gold
Blue Cone
Compacta Oriental
Danica Globe
Daniellow
Degroots Spire ( a columnar form)
Elegantissima
Emerald Green
Golden Globe (nice yellow tinge to the foliage),
Filiformis (thread leaf arborvitae),
Smaragd,
Techny
Woodwardii
Where to buy
You can buy arborvitae trees from the following nurseries
---
LAKE COUNTY PINES – phone 847-487-7408
29685 N Fairfield Road Grayslake Il 60030
Specializes in dwarf conifers and conifer trees.
Includes over 225 varieties of conifer trees many are dwarf conifers. Our conifer tree nursery also has potted dwarf shrubs. Most convenient dwarf conifer & conifer tree dealer to Chicago.