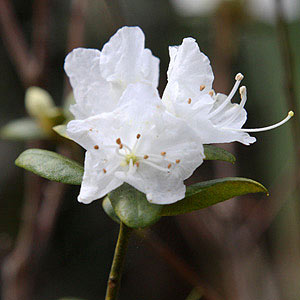 Small bushy shrubs, Azalea plants are grown both for the flowers and the evergreen foliage. They come in a number of varieties and flower colors vary from white trough to purples.
With so many varieties, you will find types that are low growing and are suited to a low hedge. Larger shrub types and even azaleas that have been trained as standards.
You can also get both deciduous and evergreen varieties, the deciduous types are from North America, the evergreens from China and Japan. Closely related to Rhododendrons, however far easier and more forgiving to grow, Azaleas are a favourite garden plant right across the USA.
Azalea indica 'Fielders White' pictured above right, is a Southern Indica hybrid, evergreen, with single white flowers from to 2 – 3 inches across. The Southern types are not as cold hardy as the Kurume types.
Some have simple single flowers, some doubles and some hose in hose, all are loved for the masses of flowers over a long period from late winter through to spring.
Care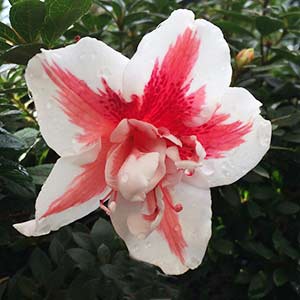 One of the key factors to remember is that Azaleas have a relatively shallow root system so light mulching will help retain moisture, as well as helping prevent weeds.
This also means that not much will grow beneath then and it is best not dig around the root system.
Pruning
Most Azaleas have a fairly compact growing habit and require little pruning. However Azaleas do respond well to tip pruning and it does make for a bushy habit.
Problems
Azaleas are generally disease resistant, however when in full sun lace bugs may be a problem. Lace bugs can be controlled with a spay of white oil.
Varieties
To break the Azalea down into types, we are looking at four main varieties, plus the species. The types offered for cultivation are :
Azalea indica hybrids
These are either Belgian indica or Hirado hybrids. Not as cold hardy as others and generally larger growing 5 – 8 ft.
Azalea kurume hybrids
These flower first and are hybrids derived from R.kaempferi and R.kuisianun. They are smaller growing from 2 to 6ft depending on cultivar. Dense bushy foliage and hardy in colder areas..
Azalea satsuki or tsutuji, hybrids
These again are hybrids, but derived from R . indicum and R.tamarue. Low growing to around 4ft, however many only to 2ft.
Azalea mollis hybrids and Ghent hybrids.
These are the deciduous azalea types
Propagation
Propagation is easy by taking softwood cuttings in late spring, semi hardwood cuttings in fall are also suitable, best wintered in a cold frame.
Cold Hardy Azaleas
Cold hardy azaleas The trick with selecting cold hardy azaleas is to select varieties where the flower buds can withstand low temperatures in winter.
Although the 'bud drop' issue due to cold is a factor, other issues need to be taken into account. A number of factors come into play with cold hardiness
Older plants are generally better than young ones, getting your azaleas through the first winters is important.
Healthy plants are tougher than those that are lacking, so good soil, appropriate fertilizer and disease free plants are better.
A sudden freeze does more damage than just plain general winter cold, even if the temperatures are the same.
Long periods of frozen ground will cause root damage.
Freezes can cause split bark, and as if the plant is 'ringbarked' or 'girdled' it may die.
Mulching to prevent the ground from freezing, using fleeces and other protection to keep plants warmer, or growing azaleas in containers and overwintering on an enclosed patio are all solutions.
The best Azaleas for cold climates
However some types of Azaleas are still better than others, because they resist bud drop.
Many of the deciduous varieties can do this and those with the familiar Rhododendron x kosteranum are some of the best. Rhododendron x kosteranum are the mollis azaleas and their flower buds cope down to -20C.
The native Roseshell azalea or Rhododendron prinophyllum is also very cold hardy, even more so than the Mollis types and here we have the key to real cold hardiness.
If we are looking for extreme cold hardiness then Rhododendron x kosteranum x Rhododendron prinophyllum are probably the ones to look for.
These go under the name of 'Northern Lights', and if they can survive a winter in Minnesota, they can truly be regarded as cold tolerant.
So her we have our selection For cold hardy Azaleas, look for the
Our number one is
The Northern Lights series
And in order, after those try :
Rhododendron Exbury hybrids.
Rhododendron "P.J.M."
Rhododendron vaseyi (Pinkshell azalea)
Azaleas are available for sale from the following growers and nurseries
---
BLOOM RIVER GARDENS – phone: 541-726-8997
39744 Deerhorn Road Springfield, OR 97478
www.bloomriver.com
BLUESTONE PERENNIALS
Offering a wide selection of bulbs, perennials, grasses, herbs trees and shrubs. Includes:Azalea.