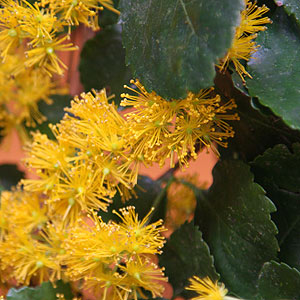 Grown widely in parks, gardens and street plantings, Azara microphylla is a little overlooked by home gardeners, however it does have a lot of qualities that make it a shrub well worth considering.
Azara are an evergreen shrub from Chile and Argentina. With small rounded foliage Azara microphylla is the most popular species of this is a dense growing shrub.
Glossy leaves and although the flowers are small they do appear in masses, they golden colored and they are are fragrant.
The vanilla scented flowers work their magic in winter, filling the garden with a sweet perfume, to make things even more attractive this is a hardy plant, although new growth is sensitive to frost. The best position is beneath a large evergreen tree where it will get some protection.
If you are looking for a little extra color in the foliage, try the popular Azara microphylla 'Variegata', which was actually developed in Ireland.
Care
In warmer zones go for a position in full sun to part shade, in cooler areas a position with some frost protection is best. A well drained soil and a little supplementary water during dry summers.
A general purpose slow release fertilizer in early to mid spring is usually adequate. Mulch around plants at this time as well.
When first planting dig in some well rotted compost and water the plant in with a liquid seaweed fertilizer.
Seen as hardy in USDA Zone 7 – 10, although grown in cooler zones in protected positions.
Pruning
Azara microphylla does have a naturally attractive growth habit, however any dead or damaged wood can be pruned back, any 'wayward' growth can be pruned just after flowering in early spring.
Varieties
Other Species Include :
Azara integrifolia has similar rounded, but larger leaves. Try a sheltered position in a humus rich soil.
Azara alpina
Azara dentata
Azara lanceolata
Azara petiolaris
Azara salicifolia
Azara serrata
Azara uruguayensis
Propagation
Easy from semi hardwood cuttings taken in early summer.
Where to Buy
You can find Azara for sale at the following nurseries
---
DIGGING DOG NURSERY – phone (707) 937-1130
PO Box 471 Albion CA 95410
Selection of hard to find perennials, ornamental grasses, shrubs, trees and vines for your garden. Includes: Azara