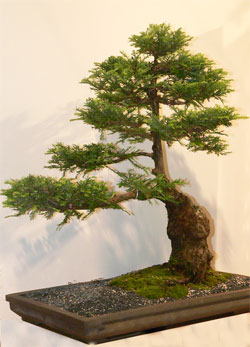 Bonsai is the art of growing trees in small containers. Bonsai trees are kept small by a highly constricted root system and selective pruning to maintain a small tree shape.
Bonsai techniques require access to range of specialist bonsai tools and also acquiring skills appropriate to the art form which is Bonsai.
Bonsai trees are often seen as an indoor tree, however as with all plants some time outdoors each year is usually of great benefit to bonsai trees. Bonsai tree care is not difficult once a few skills have been mastered and a great place to learn the basic skill is you local bonsai club.
Care
Watering.
Bonsai pots are small and hold very little water, most bonsai plants will need regular watering, maybe every day in warm conditions, however plants are also easily over watered and this can cause problems. So not to dry and not to wet.

Shelter.
Bonsai trees require shelter from extreme conditions, heat and cold.

Training.
Bonsai trees are trained to form required shapes, they are NOT dwarf trees.

Root pruning is necessary when re-potting bonsai trees, it creates a healthy tree.

Fertilizer.
Remember that Bonsai trees grow in a very small amount or soil, regular fertilizer is required. A water soluble fertilizer every 2 weeks is usually sufficient during the growing period.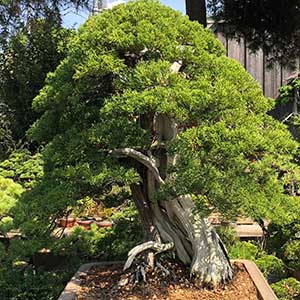 Varieties
With many trees and plants being suitable for bonsai it is impossible to list them all. The Juniper is one of the most popular, however Ficus nerifolia is also excellent.
Others to consider are :
Ulmus parvifolia
Zelkova
Acer palmatum
Cotoneaster
Juniperus chinensis
Picea
Larix
Cedrus
Taxus
Wisteria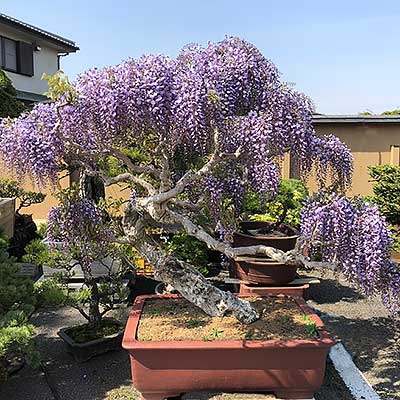 More information
Bonsai trees and pots used for bonsai are popular across the US, trees such as Chinese Elm for bonsai are a favorite. Japanese style bonsai trees and plants trees are available for sale in a bonsai pot from mail order nurseries across the USA.
Grown widely as indoor plants, Palm Bonsai and Pine Bonsai trees are also very popular. It is important to read about Bonsai Tree Care if you are to make the most of your bonsai purchase.
Bonsai tools are an essential element of bonsai tree care and these tools are available for sale online from Mail Order Nurseries, or from Specialist Nurseries and some Retail Nurseries.
Summary
Bonsai trees are not 'dwarf trees – they are grown and pruned to be small
Bonsai trees like some time outdoors
As they have small root systems, they are not as hardy as their full sized relatives
Where to buy
---
ATCHISON EXOTICS – Phone/Fax 561-499-3367 9625
Happy Hollow Road Delray Beach FL 33446
Wholesale grower of pre bonsai and imported bonsai tropical bonsai flowering bonsai 10 acre nursery est 1995 ficus too little, elm fukien tea, california certified shipper.
www.atchisonexotics.com
EMILY'S PLANTS
Visit Emily's Plants, your best online resource for house plants and herbs, bonsai trees, container gardens, and gardening gifts.
www.emilysplants.com