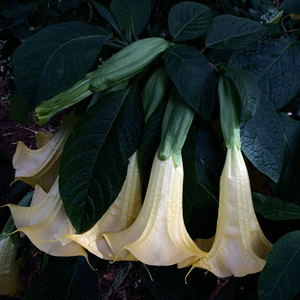 The world of Brugmansia or as they are commonly called 'Angel's Trumpets' is both fascinating and colorful.
With flower colors varying from white through to yellows and red as well as bi color, these look like a tropical plant, they actually grow well in cooler climates as well.
You can buy a range of plants as potted specimens or rooted cuttings both online and in garden centres.
Brugmansia species and more particularly the hybrid plants has become a gardeners delight over the last 15 years with many new hybrids releases by specialist growers.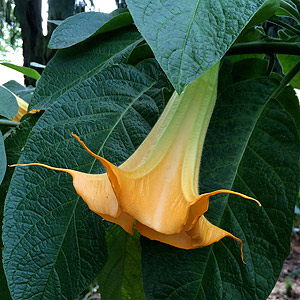 The flowers of these new varieties are large and vibrant and many are scented.
The flowering period is long, through spring and summer in the cooler parts and almost year round in the sub tropical areas.
Brugmansia candida and brugmansia versicolor are two of the more popular species used in hybridization, large flowers and perfumed.
Brugmansia sanguinea which is the red Angels trumpet is one species that is not scented.
So Brugmansia / Datura are very popular with gardeners in warmer zones such as Florida, California, Georgia, North and South Carolina and Texas.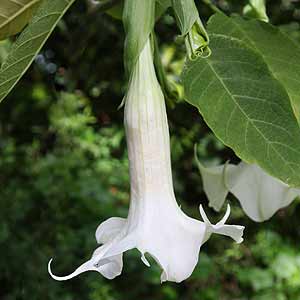 They are are also grown in Washington and Oregon and Pennsylvania where they require protection from cold winters and are often grown in containers and over wintered indoors.
If over wintering indoors, cut back before the first frosts and do not water very much or at all over winter, just a little moisture. When the weather warms up and frost are over take the plant outdoors, water and fertilize.
Basic Care
Well suited to growing outdoors in warmer zones 10 – 11, Brugmansia x candida Culebra will need to be overwintered indoors in cooler climates.
For those wanting to grow this plant in colder zones, plant hem in a container. Plants can be pruned back fairly hard in fall, and they will re shoot in spring as the temperature warms up.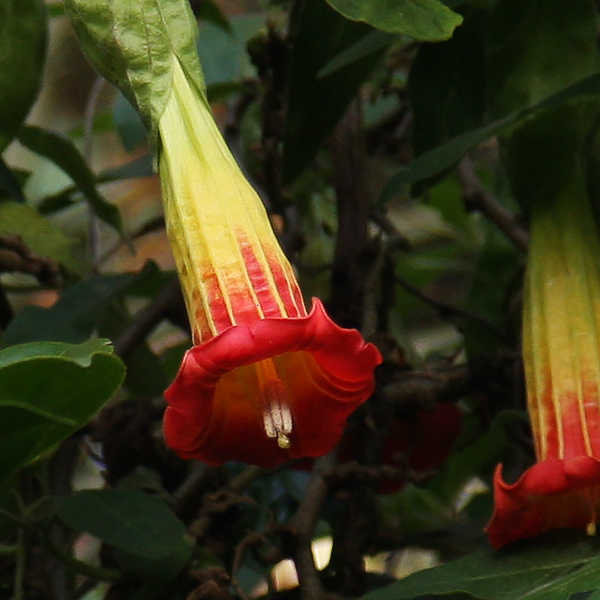 Plants are actually best pruned back so that form an umbrella shape. The flowers hanging beneath look best this way.
Container grown plants will require the same humus rich moist fertile soil as those grown outdoors.
Brugmansia varieties and hybrids
Although Brugmansia or 'Angles Trumpets' are all from South America they come from a range of climate zones and therefore different species are better suited to warmer or colder climates.
Also known as 'Angles Trumpets' because of the shape, and the fact that they are toxic, the main difference seems to be with the original altitude of the species.
Many species can be grown in cooler areas as long as they are in a rich fertile soil and are not subject to to many frosts and cold winds.
And then we have Brugmansia hybrids the most common being Brugmansia x candida which is a cross between B. aurea and B. versicolor
For warmer climates include Brugmansia aurea, insignis, sauveolens, and versicolor.
For colder climates include Brugmansia arborea, sanguinea, and vulcanicola.
You may also be interested in
Datura metel
Brugmansia plants
White angels trumpets
Brugmansia x candida Culebra
Brugmansia and Datura Differences and Identification
Propagation
Very easy to grow from cuttings, best taken in spring to summer.
The cuttings can be around 1 ft long.
Trim the foliage in half.
Place the cutting in a container with a humus rich soil mix.
Water well.
Provide some humidity, and protection from very hot sun.
New growth should appear within 2 weeks.
Leave in the container until the next spring before planting out.
Care
Growing Brugmansia, Datura or 'Angels Trumpets is not difficult given the right conditions.
All species and cultivars prefer a frost free environment and prefer a humus rich moist but well drained soil.
In cold climates they will die back in winter
They require lots of compost, mulch and fertilizer – heavy feeders
Brugmansias can be pruned to form a standard
Protect from wind as branches are brittle
Flower color is stronger in semi shade than it is in full sun
They can be successfully grown in containers. A large pot will be needed for a mature plant, however we have seen them heavily pruned in smaller containers with masses of flowers.
Where to Buy
Brugmansia Plants are available for sale from the following nurseries
---
ANGEL TRUMPET PLANT FARM – Phone 903-854-4161
Laneville Texas
Angel Trumpet and Brugmansia Cuttings. Well rooted with healthy green leaves and ready for planting.
GEORGIAVINES.COM 2309 Woodland Way Brunswick GA 31520 – phone: 9129965467
Specializing in Passiflora such as: Nigradeia, Kewensis, Riparia, Tulea, Yucatanense, Sunburst, Fledermouse, Atropurpura, Triloba, Holosericea, and Ruby Glow Also plants and seeds
www.georgiavines.com
KARCHESKY CANNA
Also a fantastic selection of Brugmansias including a selection from Monika Gottschalk.Possibly the best selection of Cannas and Brugmansia in the USA. Includes Cannas from hybridizers accross the world including Bernard Yorke in Australia.
www.karcheskycanna.com