The Butterfly Bush Plants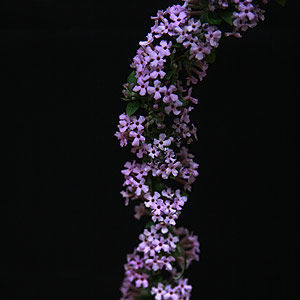 If you are looking for a plant that attracts both Butterfly's, Hummingbirds and Bees then Buddleja (Buddleia) is very high on the list. However with many varieties to choose from the birds and the bees and the butterfly's will be spoiled for choice.
With long arching stems, good green foliage and flowers that begin in spring and continue through summer into fall, Buddleia put on a long lasting show in the garden.
The flowers themselves hang in rather graceful panicles, ranging in color from white through to pinks and purples, and yellow as well.
A drought tolerant plant once established, they not only attract wildlife, but are also a great plant for hot sunny positions. Deer resistant, easy to prune and of course fragrant flowers all through spring into summer.
Care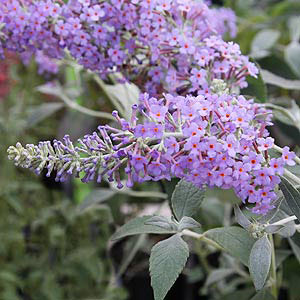 In a humus rich well drained soil Buddleia will not require much care at all once established. You can even neglect them for a number of years and they will continue to perform well. A little extra care and they will be brilliant.
Plant in a sunny position. The best time to plant is in early spring.
Water in well with a liquid seaweed fertilizer.
Water well through the first summer.
An annual pruning will do wonder for plants once they are 2 – 3 years old.
Varieties
Many varieties are available for sale, and Buddleja do well in Zones 4-10 depending on cultivar. Buddleja davidii and Buddleja alternifiolia are the two most popular species.
We consider Buddleja fallowiana 'Lochinch' to be equally as good as any.
Flowers range from white to blue/mauve through to red but look for Buddleia Bi-Color for an interesting and different look.
Buddleja 'White Ball' and 'White Profusion' are well known white plants.
Buddleja 'Silver Anniversary' has great silvery foliage.
Buddleja asiatica 'Spring Promise' has rather delicate flowers.
Buddleja salviifolia is known as 'South African Sage Wood'.
Cultivars such as Buddleja 'royal red' and Buddleja 'black night' are also popular.
Dwarf Buddleja
New 'dwarf' or low growing cultivars are now available for sale online, these Buddlias will grow to 1/3 of the size of normal plants, look for Buddleia davidii 'Pyrkeep', 'Purple Emperor' and Buddleia davidii 'empire blue'.
Pruning
The best time to prune Buddleja is in spring, wait for the frost to go.
You will need loppers.
You can simply prune back into last years growth, as long as you leave some viable shoots.
Older wood can be pruned right away.
If you try pruning back into very old wood, the chances are it will not shoot, however this will not really harm the plant.
Any stems that do not reshooot can simply be lopped right off later on.
Where to Buy
Buddleia Plants are available for sale from the following nurseries.
---
BLUESTONE PERENNIALS
Offering a wide selection of bulbs, perennials, grasses, herbs trees and shrubs. Includes: Buddleia
www.bluestoneperennials.com
SEQUIM RARE PLANTS
500 N. Sequim Ave. Sequim, WA 98382
Small mail order nursery with a very interesting range of perennials and other plants.