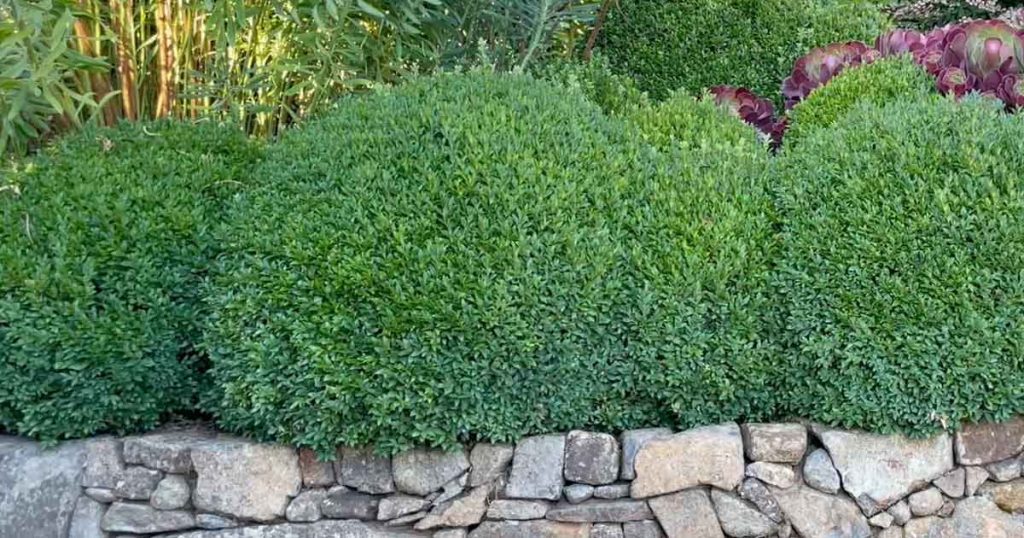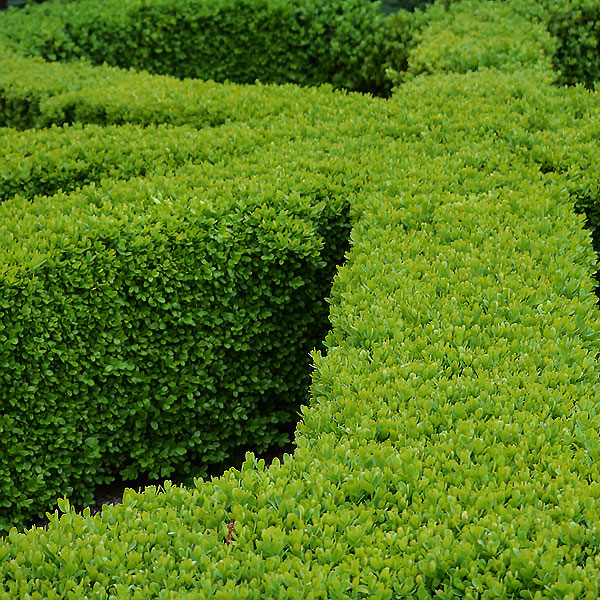 One of the most popular plants for low hedges as well as for topiary Buxus comes in a number of varieties. Some are faster growing, some with more heat tolerance and others with finer foliage. Varieties that have a columnar or 'upright habit' are also available for sale.
Buxus are well suited to growing in containers and make a great plant for smaller gardens when used this way.
Choosing the right Buxus for the right landscaping application is essential.
Buxus plants are available for sale from small starters to advanced plants suited to an 'instant hedge'. Smaller plants are the cheaper alternative and readily available online.
Care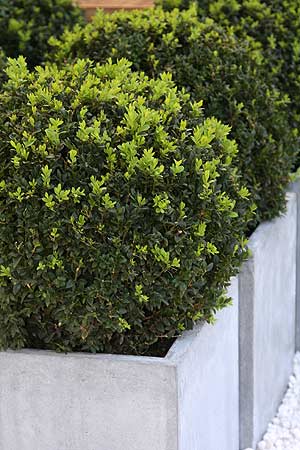 Buxus grows well in a humus rich moist well drained soil, a sunny position is suitable. Some water required during dry spells. It will however thrive in less than optimum conditions, coping well with a range of soil conditions.
Spacing is important and will depend on the purpose, although in general for a low hedge plants should be spaced at around 12″ apart.
Although larger plants are available it is better in the long term to buy smaller boxwoods and prune them regularly from planting on to form a nice formal hedge.
How to Plant a Buxus Hedge
Plant at 1ft intervals apart for a good dense low growing hedge
Water well through the the first summer.
Mulch to retain moisture and suppress weeds.
Do not under plant.
Use a slow release fertilizer in spring and again in early summer.
Problems
Yellowing foliage, often caused by a lack of lime.
Scale, caused by insects and usually a spray with white oil will cure the problem.
Varieties
Buxus sempervirens – This is the English or 'common box'. Slow growing and therefore requiring less pruning than others it is one of the most popular varieties for formal hedges and topiary. It will tolerate frosts and shade, however it outperforms in a sunny position. Also know as the American Boxwood.

Buxus sempervirens 'variegata' – As above however the leave margins are cream to white.

Buxus sempervirens 'Suffruticossa' – This is commonly called 'Dutch Box', leaves are more rounded than the English variety and is seen as slightly more tolerant of shade.

Buxus sempervirens 'Graeme Blandy' also known as 'Emerald Pillar'. A strong upright habit, excellent for narrow spaces, next to entrances etc. Also good in shaded positions, the narrowest of the uprights.

Buxus sempervirens 'Dee Runk' another tall upright variety.

Buxus sempervirens 'fastigata' Tall upright and slight wider than the other upright types.

Buxus microphylla var japonica – Better in warmer climates than B.sempervirens this species is commonly called Japanese Box. Faster growing and requiring more regular pruning.

Buxus microphylla var microphylla – The Korean Box, excellent for a lower growing hedge as this is its natural habit, low and wide. Smaller foliage make it suited to a formal hedge. Excellent in containers.

Buxus microphylla 'Faulkner' is a dwarf variety.
How to Propagate Buxus
Easy by softwood cuttings
Look for good stems and take cuttings at around 6 inches long
ip in a rooting or striking hormone (powder or liquid)
se a normal potting soil mix with some added sand for drainage
If possible use a propagator that will provide bottom heat
t signs of new growth remove from propagator and prepare to harden off outdoors in the shade.
Increase exposure to the sun gradually over 8 weeks.
Plants are best overwintered for one year until a good root system has developed.
Summary
Excellent fast growing plant for a low to medium hedge.
Upright varieties are available.
Commonly used for topiary.
Looking at Hedging Plants in more detail
Where to Buy Buxus Plants
---
BLUESTONE PERENNIALS
Offering a wide selection of bulbs, perennials, grasses, herbs trees and shrubs. Includes: Buxus.
www.bluestoneperennials.com
BLOOM RIVER GARDENS- phone: 541-726-8997 Fax: 541-726-4052 39744
Deerhorn Road Springfield, OR 97478 Buxus. Including: Buxus micorphylla, Buxus sempervirens.
www.bloomriver.com
LAKE COUNTY PINES – phone 847-487-7408
29685 N Fairfield Road Grayslake Il 60030
Specializes in dwarf conifers and conifer trees. Our conifer collection includes over 225 varieties of conifer trees many are dwarf conifers. Most convenient dwarf conifer & conifer tree dealer to Chicago.
www.lakecountypines.com