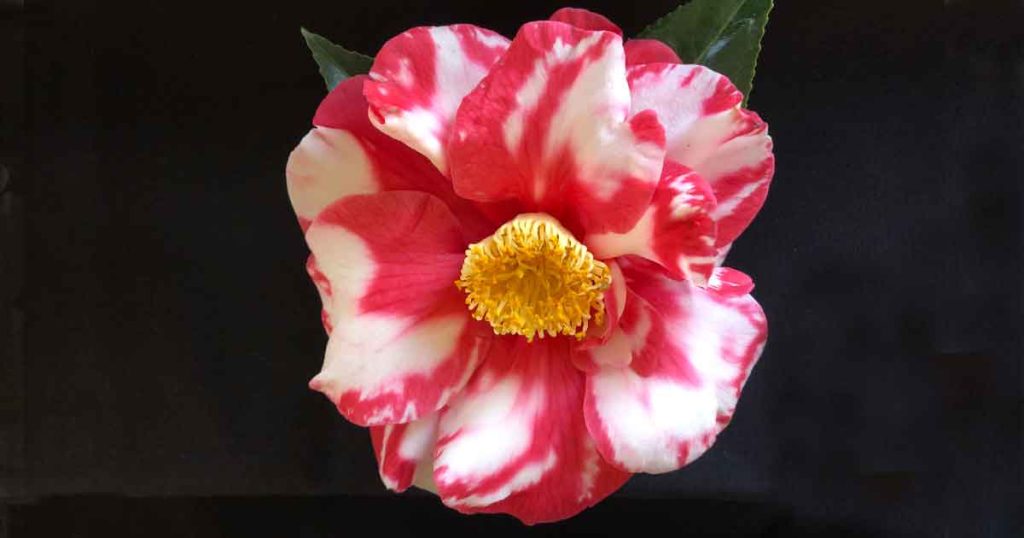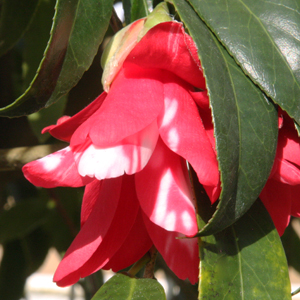 We believe that there is a camellia plant for nearly every garden. With so many species and literally 1000s of cultivars available for sale these are one of the most versatile of all garden plants.
Pictured right is Camellia japonica 'Hikarugenji' a wonderful older cultivar also sold as 'Hermes'
The two main species grown in the USA are Camellia sasanqua and Camellia japonica. However it is camellia sinensis that would win for weight of sheer numbers grown around the world, yes its the 'tea plant'.
Used in the garden as flowering feature plants, hedges and as backing plants in the garden border, and with large growing, small and even weeping varieties they are indeed one of the most useful garden shrubs of all time.
As for a little history, they have been cultivated for around 700 years. They must have something going for them.
Care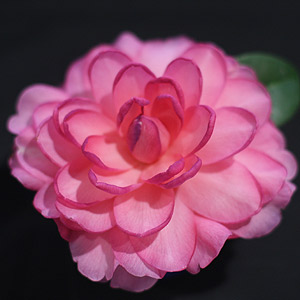 The right camellia for the right position
Some camellias like cool shade, and some like full sun. Many C. sasanqua cultivars will grow well in sub tropical areas and a few 'rare species' will also grow well in these conditions if you can find them. The yellow flowering Camellia flava from Vietnam is one.
In general Camellia japonica prefer a cool part shaded position in a humus rich moist soil. They grow well in shade however really deep shade is not the best choice. The sasanquas grow well in part shade to sun, a tougher camellia all round.
Camellia 'Dream Boat"
Camellia Flower forms
Pictured right we have Camellia x williamsii 'Dream Boat', a great example of formal double blooms. Slightly curved petals. However a number of flower types are available – yes, Camellias do have variety
Singles are the most common flower form.
Semi doubles with two rows of petals.
The anemone form with an outer ring of petals and a central group of petaliods are very popular.
Peony forms.

The doubles and formal doubles produce some of the most spectacular flowers of all.
Flowering time and growing zone
This is where camellias are real winners in the garden, they will flower from the middle of winter through to spring depending on cultivar and species.
And as for zones the Japonicas are best in Zones 7-9 and Sasanquas are the same.
C. sinensis will grow down zone 6 and so will some cultivars.
Propagation
Propagation is easy by taking softwood cuttings in late spring, semi hardwood cuttings in fall are also suitable, best wintered in a cold frame.
You may also be interested in
camellia crapnelliana
camellia sinensis
camellia transnokoensis
camellia plants for sale
Where to buy
Camellia Plants are available for sale from the following growers and nurseries
---
CAMELLIA FOREST NURSERY – phone: 919-968-0504
9701 Carrie Road Chapel Hill NC 27516
Specializing in Hardy Camellias, Magnolias Prunus mumes, Cryptomerias, Taxodiums and Primulas.
BLOOM RIVER GARDENS – Phone: 541-726-8997 Fax: 541-726-4052
39744 Deerhorn Road Springfield, OR 97478
Plus Conifers, Maples, Hostas, Ornamental Grasses, Azaleas and Rhododendrons, Wisteria and more.