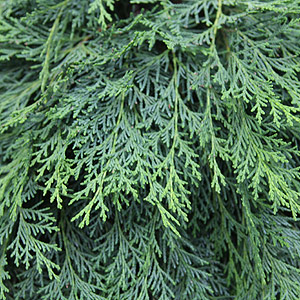 Chamaecyparis are native to both North America and Eastern Asia they are a large group of evergreen trees varying in habit depending on species and cultivar.
Known commonly as the False Cypress, they characteristically have flattened scale like foliage (see picture right) and will produce cones in spring or autumn.
Some of the smaller growing varieties such as the dwarf Chamaecyparis such as Chamaecyparis obtusa 'Nana' are among the most popular in many gardens.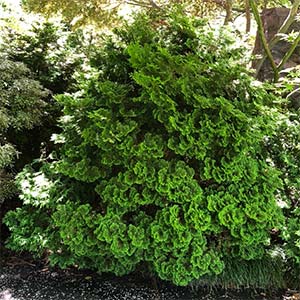 Similarly Chamaecyparis pisifera comes in a range of forms including smaller growing species. Chamaecyparis pisifera 'Filifera Aurea' or Golden Mop Japanese False cypress will grow to 6′.
The 'Port Orford Cedar' or Chamaecyparis lawsoniana is a tall growing species with a large trunk, suitable for large gardens only.
Care
General Care
All species prefer a humus rich moist, but well drained soil. And all are best grown in a sunny position.
Most Cypress trees will grow well USDA zones 4 through 8. However some species do vary in hardiness.
Planting
Choose a well drained soil and a position in full sun to afternoon shade. More shade in warmer zones.
Prepare the soil before planting, digging in well rotted compost and little aged cow manure.
Ensure the soil is moist before planting, not wet and soggy.
Plant the tree at the same depth it was in the container.
Water in well with a liquid seaweed fertiliser to help promote good root development.
Mulch around the plant to maintain a cool root run and help suppress weeds.
Water regularly through the first few summer or in dry spells.
Top up the mulch each spring adding a general purpose slow release fertiliser at the same time.
Although they can be pruned, they will not reshoot from old wood.
Regular pruning of new growth is best to maintain shape and size
Varieties
Chamaecyparis species for the garden
Chamaecyparis aurea
Chamaecyparis filifera
Chamaecyparis gracilis – Graceful Hinko Cypress
Chamaecyparis lawsoniana – Port Orford Cedar
Chamaecyparis nana
Chamaecyparis nootkatensis – Nootka Cypress
Chamaecyparis obtusa Nana
Chamaecyparis obtusa gracilis – Hinoki False Cypress
Chamaecyparis pisifera – Sawara cypress
Chamaecyparis thyoides – Atlantic cedar or Swamp Cedar
Where to buy
Chamaecyparis are available for sale from the following nurseries.
---
CAMELLIA FOREST NURSERY – phone: 919-968-0504
9701 Carrie Road Chapel Hill NC 27516
LAKE COUNTY PINES – phone 847-487-7408
29685 N Fairfield Road Grayslake Il 60030