Mexican Orange Blossom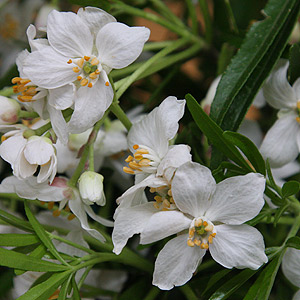 Grown as a small hedge as well as in the garden border Choisya ternata are a fragrant evergreen shrub that can easily be pruned to shape and size.
Commonly the Mexican orange Blosson, it has fragrant white flowers which appear in spring. The plant can be clipped back to promote a second flush of flowers.
In spring the fragrant flowers appear and they beauty is that it is a long lasting flower display, 3-4 months of lovely white flowers. Clear white flowers with yellow stamens appear in masses. (see image right)
Choisya ternata or 'Mexican orange blossom' are readily available from online nurseries and local garden centres.
How to Grow Mexican Orange Blossom
General Care
The great thing about these plants is that they grow to a natural rounded shape, fairly neat, dense glossy green foliage makes then useful as a hedge.
For best growing conditions choose a humus rich well drained soil in full sun to part shade, although Choisya ternata or 'Mexican orange blossom' will actually handle a fair amount of shade, but flowering may not be as prolific.
Regarded as hardy in USDA Zones 6 – 9
Pruning Mexican Orange Blossom
Shrubs can be lightly pruned after flowering to maintain shape and promote a second flush of flowers. Cut back by 12″ (30cm) or a little less.
Heavy pruning can be carried out in early spring, start by removing and dead or diseased wood and then bring the plant back to shape.
Varieties
Choisya ternata 'Sundance' – Attractive yellow foliage.
Choisya 'Aztec pearl'

Both are a hardy a evergreen small shrub widely used in the garden.
Propagation
Propagation is easy by taking softwood cuttings in late spring, semi hardwood cuttings in fall are also suitable, best wintered in a cold frame.
Summary Description
USDA Zones 6 – 10
Botanical Name – Choisya ternata
Common Name – Mexican Orange Blossom
Position – Full sun
Height – To 6ft (2m) in height
Width – To 6ft (2m) in spread
Soil – Humus rich well drained to sandy loam
Watering – Drought tolerant once established
Flowers – White and frangrant
Flowering Time – Spring with spot flowering through summer
Foliage – Glossy green, opposite, palmately compound
Deer Tolerance – Medium to High
Rabbit Tolerant – Medium toHigh
Where to buy
Choiysa ternata is available for sale from the following nurseries.
---
DIGGING DOG NURSERY – phone (707) 937-1130
PO Box 471 Albion CA 95410
A spectacular selection of hard to find perennials, ornamental grasses, shrubs, trees and vines for your garden. Includes: Choisya ternata 'Mexican Orange Blossom'
www.diggingdog.com