The Rock Roses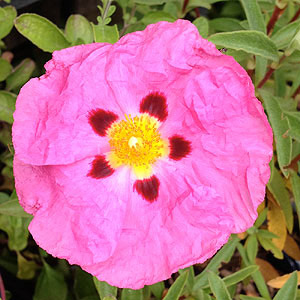 It is so easy to just label a plant as Cistus, however a numb roof different species are available tom the home gardeners and C.purpureus and C.ladanifer are just two popular species from the family of around 20.
We recently read an article about growing Cistus indoors, one of the most unlikely plants that anyone would wish to grow inside. These are a plant that does not have attractive foliage, they require good strong sunlight and generally do not make a good indoor plant.
However Cistus are great plants for containers, they grow well by the seaside and these evergreen flowering plants will never cease to put on a show of flowers for long periods from spring through to fall.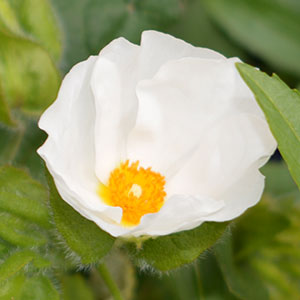 Well suited to dry areas and full sun Cistus are a low growing shrub that are covered in flowers during spring and summer. Flowers range from pure white through to pale pink.
Care
General Care
Although Cistus do in fact thrive on neglect, you can make life even easier with a little basic care. They are regarded as hardy in USDA Zones 6 – 9 depending on the variety.
We hear a lot about Cistus loving poor soil, they actually love good drainage and not much fertilizer.
So if you think you can plant them in rocky soil with a a bit of sand, you might find they do not actually thrive.
So here are our four main points for growing Cistus.
A well drained soil is essential.
Good sun is also essential.
Try not to over fertilize.
Poor soil is OK, however a good soil, with good drainage is better.
Pruning
Cistus plants seem to resent pruning, when cut back hard they tend to fail to shoot or produce new growth especially the larger growing species such as Cistus ladinifer. Smaller growing plants seem to cope a little better.
We suggest light tip pruning on a regular basis rather than hard pruning for best results.
Varieties
Here is where modern cultivars come to the forefront, especially in terms of flowers. Cistus purpurea , for example is certainly is hardy, however in terms of flowers it does not really rate.
Some of the important species in hybridisation include :
C. ladanifer is the species that has the blotched petals, and it is used widely in hybridisation.
C. aguilarii is a tall growing species with white flowers
C. creticus have deep pink to mauve flowers.
C.symphytifolius – From the Canary islands, mid pink flowers, yellow stamens..
And of course some of the modern cultivars are also more tolerant of the cold
Some of the best cultivars include :
Cistus 'Sunset' – Low growing, masses of magenta flowers and excellent as a grouncover plant.
Cistus 'Blanche' – Tall bushy shrub to 6 ft, very large white flowers with yellow stamens.
Cistus 'Snowfire' – Tall with white flowers, attractive red to magenta blotch at the base of each petal.
Propagation
Propagation is easy by taking softwood cuttings in late spring, semi hardwood cuttings in fall are also suitable, best wintered in a cold frame.
Where to buy
---
BLUESTONE PERENNIALS
Offering a wide selection of bulbs, perennials, grasses, herbs trees and shrubs.
www.bluestoneperennials.com
SEQUIM RARE PLANTS
500 N. Sequim Ave. Sequim, WA 98382
Small mail order nursery with a very interesting range of perennials and other plants.
www.sequimrareplants.com