An evergreen shrub The Anchor Plant (Colletia paradoxa) is slow growing but can reach over 2 metres (6ft) in height with a similar spread.
The botanical name is Colletia paradoxa and it gets its common name from the flattened modified leaves that are shaped like Anchors. These stem are in flattened pairs and also give it the name of 'Jet Plane Plant'.
It has its origins in South America where it grows on rocky hillsides with poor soils and very good drainage. The new growth appears like true leaves, however these quickly tun to the modifies leaves which gives ether plant its appeal.
Colletia paradoxa will flower in autumn/fall, very small white flowers with a pleasing scent reminiscent of lilac.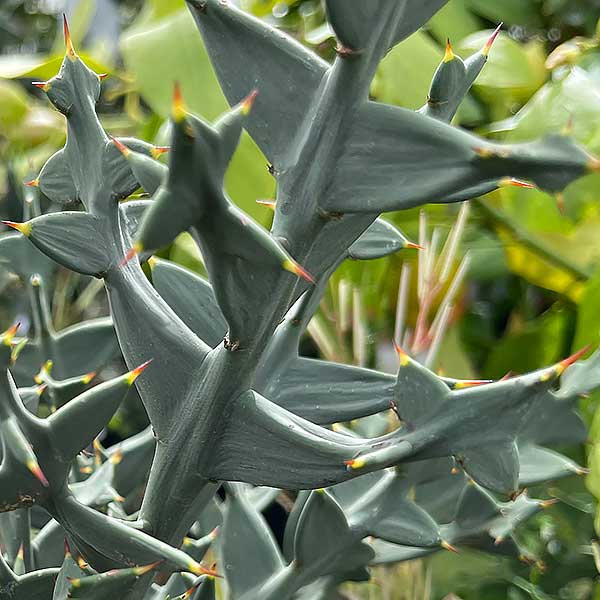 Garden Uses
Use it as a feature plant in the garden or container or as an impenetrable barrier plant, it is regarded as being a Deer Resistant Plant.
Not to be grown in a position where you may brush against it and the terminal thorns are sharp.
How to grow Colletia paradoxa
A sunny position and a free draining soil are essential.
Use a cactus and succulent potting mix if growing in containers.
In the ground, a free draining soil is important. Plant on a slope or hill up the soil to improve drainage if needed.
Protect from frosts when young.
You can prune away lower growth to create a more 'tree like' appearance if desired.
Like most plants, this will be a smaller growing plant in containers than if grown in the ground.
Summary Information
Botanical Name : Colletia paradoxa (syn. Colletia cruciata)
Common Names : Anchor Plant, Propeller plant, Jet Plant Plant
Family : Rhamnus
Origins : South America Uruguay, Western Argentina and S/ E Brazil,
Position : Full sun to light afternoon shade.
Soil : Well drained
Height : To around 6ft (2m)
Spread : To around 6ft (2m)
Flowers : Small, fluffy, fragrant white to Cream
Flowering Time : Summer to Fall/Autumn
Flattened Blue-Green stems.
Drought tolerant : Yes
Deer resistant : Yes