Cotinus coggygria 'Smoke Tree'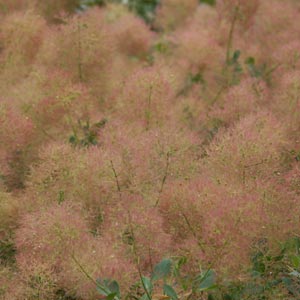 Known as the Smoke Tree, Cotinus coggygria is a small bushy plant grown for the colorful foliage. However on of the outstanding feature are the plumes of seed heads that are held above the foliage in fall, just like a puff of smoke.
A number of named varieties are available for sale, all with differences in foliage color and growth habit, but almost all are wonderful additions to the garden.
Most varieties are stunning plants when in flower, they are easy care, have seasonal interest year found and are well suited to USDA Zones 4 – 8.
Care
General Care
These are a hardy plant and cope well with poor soils and low water once established. For best performance try these steps.
Choose a well drained soil and a position in full sun to part shade.
Dig in some well rotted compost before planting.
Water in with a liquid seaweed fertilizer.
Provide moisture through the first summer until the root system is established.
Apply a slow release fertilizer every 2 – 3 years.
Mulch around plants in spring to maintain a cool root run.
Pruning Cotinus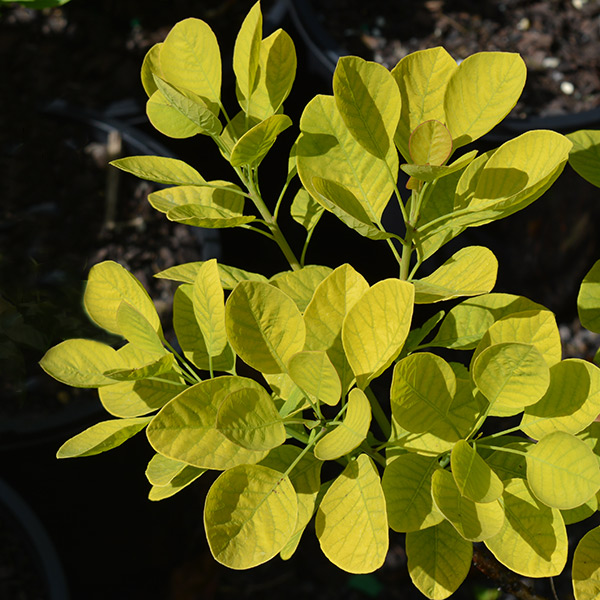 These are a plant that can be easily pruned, however they do flower on old wood, so they are a plant that is best pruned every four to five years. You will sacrifice flowers for a season.
The best time to prune Cotinus is in spring, just before new growth commences. You can generally either cut the whole book back to around 2ft from the ground, this is the easy way.
You can be a little more methodical and use three year cycle.
Cut out any dead wood
Cut out any spindly growth at the base
Choose 1/3 of the rest of the strong stems and prune them back to 2ft
The next year repeat with another 1/3 cut back and so on 
Varieties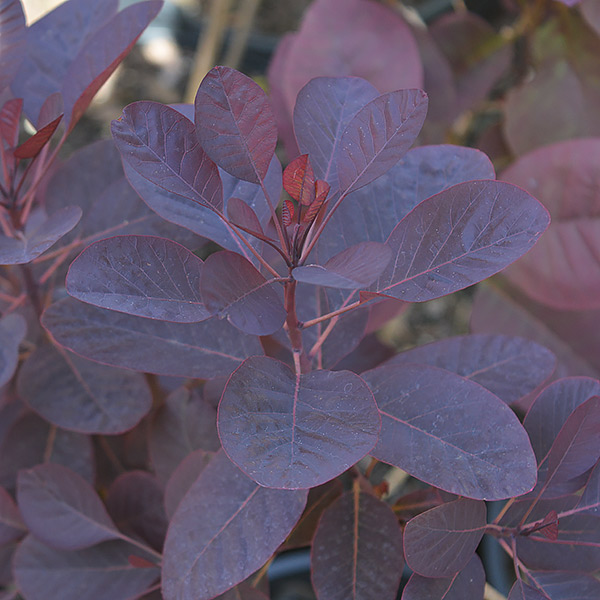 Varieties Varieties such as Cotinus 'Royal Purple' with its deep crimson to purple foliage, and Cotinus Grace which is a hybrid between Cotinus coggygria and Cotinus obovatus provide some of the best combinations of foliage and fall color available.
Cotinus 'Royal Purple' – Wonderful deep red foliage that turns a brilliant scarlet in fall.
Cotinus 'Golden Spirit' – Golden pale green foliage with red to orange fall tones.
Cotinus 'Young Lady' – Perhaps the most prolific of all in terms of those smokey flower plumes.
Cotinus 'Grace' – Reddish purple foliage that is a little 'lighter' than the deep purple types.
Landscaping with Cotinus
Excellent at the rear of the garden border where the foliage provides a backdrop to smaller plants and those flower heads can float above the bush from late summer through fall.

Where to buy
---
Cotinus Varieties are available for sale from the following nurseries
BLOOM RIVER GARDENS – phone: 541-726-899739744 Deerhorn Road Springfield, OR 97478