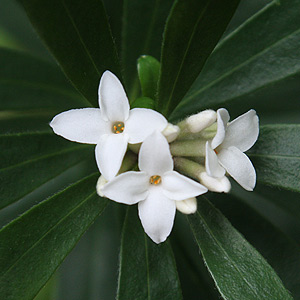 It is not often that a new release plant is as good as Daphne 'Eternal Fragrance'. It has all of the desirable daphne features and not many of the bad ones.
With a naturally dense and compact growth habit Daphne Eternal fragrance can reach around 36" (90cm ) in height. In our garden grown in an open sunny position, a 10 year old specimen is at around 36" (60 cm) with a spread of 36" (90 cm) . In more shaded areas it tend to get a little taller.
Lets give it the correct name, Daphne x transatlantica 'Eternal Fragrance', D. transatlantica itself being a hybrid of D.causasica and D. sericea 'collina'. So given the parentage, it is not surprising that this is a tough plant.
You will also see this plant referred to as Daphne x transatlantica 'Eternal Fragrance ('Blafra). Pictures right is the flower, pure white and star shaped.
With fragrance said to match Daphne odora, and flowers either pink or white, depending on the variety, and there are two, Eternal Fragrance has a few other great traits.
Firstly it is sun hardy, its is certainly not the only sun hardy daphne, however it probably is the best one, especially for fragrance.
This is also a daphne that flowers over a long period, the main flush of flowers is said to be in spring, however it produces more flowers through summer and into autumn. The warmer the climate, the longer the flowering period, so this will differ from zone to zone.
We review Daphne 'Eternal Fragrance'
We have been growing this plant for two years, both the pink and the white varieties and here are our comments.
Fragrance is not as strong as that of D.odora in the winter.
It does flower for a longer period than any other we have grown.
It flowers more readily where it gets good sun at least for the morning.
Foliage is smaller and a duller green.
Takes well to pruning.
Seems reasonably fast growing.
Is the fragrance really everlasting ? For us, it flowers in winter, has a rest and comes back in summer and continues into fall. We think the summer flowers are better than the winter ones. This may depend on your climate and growing conditions. However nothing is really eternal.
So is Daphne 'Eternal Fragrance' the 'BEST DAPHNE'. ?
In our eyes it is a good daphne, we still think others are more fragrant when in flower, however no others flower for as long as this one, so you get perfume for longer. The flowers are also smaller than others, however, more of them.
We actually like the glossy foliage of D.odora more, however Daphne x transatlantica is still an attractive plant.
Is the pink variety or the white variety better ? We do like the white one.
Care
Although Daphne transatlantica 'Eternal Fragrance' is more sun tolerant than some other species the amount of sun will depend on the climate zone. So the hotter the sun in the peak of summer, the more shade.
The key to growing this easy care plant is to find a position in good sun, with perhaps some afternoon shade in warmer climates. A humus rich well drained soil is important, mulching around the plant will help provide a moist cool root run.
Once established, Daphne Eternal fragrance requires very little water except in hot summer conditions and prolonged dry periods if the soil is prepared well.
This is a tough evergreen plant and is regarded as frost hardy, as long as it gets good sun during the day time.
One of the main tricks is to monitor summer watering, do not let the ground dry out on one hand, and do not over water on the other.
This is a more vigorous grower than some other as well, so a humus rich moist but well drained soil will help it make the most of this habit.
Pruning
You will find that pruning keeps this wonderful daphne in good shape, and two methods can be used.
Firstly you can tip prune, simply pick a few flowers each spring and this will work. You can also prune a little harder. You still need to do this in spring, immediately after the first flush of flowers, and at this time you can prune back by 2 – 6 inches.
Summary Information
Botanical Name : Daphne x transatlantica 'Eternal Fragrance'
Common Name : Daphne 'Eternal Fragrance'
Family Name : Thymelaeaceae
USDA Zone : 6 – 8
Height : To around 36 inches
Spread : To around 36 inches
Growth Rate : Medium
Flower colour – Pink or White depending on variety
Flowering Time – Spring to Winter depending on the zone
Soil : Humus rich, moist and well drained
Light : Full sun to part Light shade.
Humidity : Medium
Container Growing : Yes
Frost Tolerance : Light to medium frosts only
Drought Tolerant : No