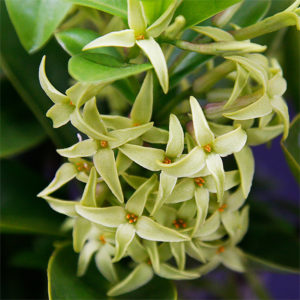 With fascinating green flowers Daphne pontica is a small plant flowering late in spring. With a spreading habit Daphne pontica will reach around 4ft in height with a similar spread. However this is slow growing so be patient.
Also known as the 'twin Flowered Daphne', the flowers are nicely perfumed, and although some gardeners say they are not attractive, we tend to disagree.
Large dark green, shiny foliage and spidery green to yellow scented flowers followed by dark berries in summer. This an attractive plant for a shaded or woodland garden.
Daphne pontica Care
Plant profile, growing notes and photographs for Pontica indicate that Daphne pontica is suited to zones 6 – 9. As long as humidity is not a problem and drainage is good this is a plant that is worth a try.
Daphne pontica is an excellent for heavy shade.
Try a humus rich moist but free draining soil.
Water in well with a liquid seaweed fertilizer
Pruning is generally not required although a little tip pruning is recommended.
Summary Information
Botanical Name : Daphne pontica
Common Name : Twin flowered Daphne, Pontic Daphne
Family Name : Thymelaeaceae
USDA Zone : 5 – 8
Height : To around 24 inches
Spread : To around 24 inches
Growth Rate : Slow
Flower colour – Yellow to green
Flowering Time – Spring
Soil : Humus rich, moist and well drained
Light : Medium to Light shade.
Humidity : Medium
Container Growing : Yes
Frost Tolerance : Light frosts only
Drought Tolerant : No