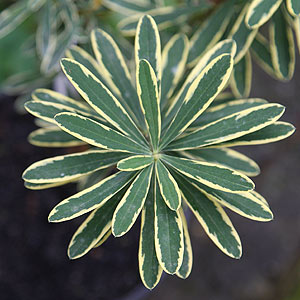 If you are looking for strong variegated foliage in a daphne, then Daphne x burkwoodii 'Somerset Gold Edge' would be the one to look for.
Much more prominent markings than other variegated species and cultivars and a fairly hardy plant as well. We have seen it grown as a standard, certainly very attractive and unusual.
Care
Best in a part shaded position, deep shade is not really suitable. A humus rich well mulched soil with good drainage is essential.
Pruning
Pruning can be carried out either by tip pruning by taking a few flowers each season, or by pruning back by 2 – 3 inches each year immediately after flowering.
Summary Information
Botanical Name : Daphne x burkwoodii 'Somerset Gold Edge'
Common Name : Daphne 'Somerset Gold Edge'
Family Name : Thymelaeaceae
USDA Zone : 6 – 8
Height : To around 36 inches
Spread : To around 36 inches
Growth Rate : Medium to slow
Flower colour – Pink to Mauve
Flowering Time – Winter to Spring depending on the zone
Soil : Humus rich, moist and well drained
Light : Full to part Light shade.
Humidity : Medium
Container Growing : Yes
Frost Tolerance : Light to medium frosts only
Drought Tolerant : No