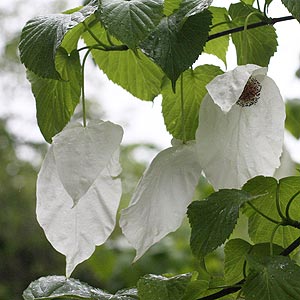 The Dove tree (Davidia involucrata) is an elegant medium sized slow growing deciduous tree sometime referred to as 'pocket handkerchief tree'.
The flowers which appear in spring are actually small, however they are surrounded by white bracts that resemble 'handkerchiefs' or 'doves'.
When in full flower this is perhaps one of the most beautiful of all of the deciduous trees, competing even with the Magnolia Varieties.
The flowers hang beneath the branches, a little like washing on a line. Originally from the hilly areas of South Western China, this is one one of the most elegant flowering ornamental trees when in full flower.
The leaves are large up to 6 in long, toothed and heavily veined, making an attractive addition to the garden through summer and into fall.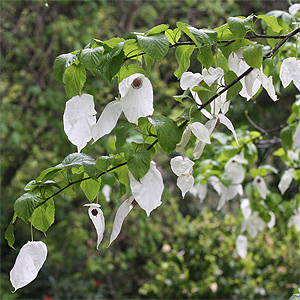 The Dove tree (Davidia involucrata) will reach 40 – 50ft (15m) in time so this is one for a large garden. Fall foliage is an attractive buttery yellow. A humus rich well drained soil is best. This one is not drought tolerant.
It will take a few years for this tree to flower, best suited to USDA zones 6 – 8.
How to Grow The Dove Tree
Best grown in a humus rich moist well drained soil. In the right zones Davidia involucrata can be grown in full sun, in warmer climates, some protection from hot afternoon sun will be required.
Although Davidia involucrata is frost hardy it does not cope well with strong wind, mainly because of the flower bracts which are easily damaged.
Best planted as a specimen tree in a larger garden Davidia involucrata will eventually grow to have a broad grown which makes it a useful shade tree as well.
Pruning is generally not required, other than remedial work including the removal of any dead or damaged limbs.
Propagation
Propagation from seed is possible, however cold stratification will be required and even then germination can take between 2 and 4 years. Added to the fact that seedling trees can take 15 years to actually flower.
Cuttings of semi ripe wood taken in summer is the more usual method of propagation. Although seed grown trees are said to more vigorous.
Layering is also possible.
Varieties
Although the genus only holds the single species natural variation does exist, few different varieties are available including :
D. involucrata var. vilmoriniana, smoother leaves than the species and is said to withstand colder temperatures than the species.
D. involucrata 'Sonoma' said to have larger flowers and more of them than the species, also smaller growing and is earlier flowering.
D. involucrata "Lady Sunshine" has variegated foliage, green with golden margins in spring that quickly turn to a creamy white.
D. involucrata 'Columnarius', a more narrow or upright growth habit.
Summary Information
Botanical Name – Davidia involucrata
Common Names – Dove Tree, Handkerchief tree, Ghost Tree
Family – Nyssaceae
Origins – Southern to South Western China
Height – To around 40 – 50ft (15m)
Spread – To around 20 – 40 ft 
Growth Rate – Medium
Flowers – White
Fruit – Small brown round fruit on short stems follow the flowers.
Flowering Time – Spring
Foliage – Mid green heart shaped
Position – Full sun to Part Shade
Drought Tolerant – Low
Frost Tolerant – Yes.
USAD Zones – 6 – 8
Did you know
Davidia involucrata is named after Père Armand David, a Priest and also one of the great botanical explorers who travelled extensively through China, Mongolia as well as Tibet in the mid 1800s.
The tree first flowered outside of its natural habitat in France in the early 1900s.
He also has the honour of being the first westerner to see and describe the giant panda. His name occurs in a number of other places as well, including Acer davidii, Buddleia davidii, Lilium davidii and others. As well as the Dove Tree.