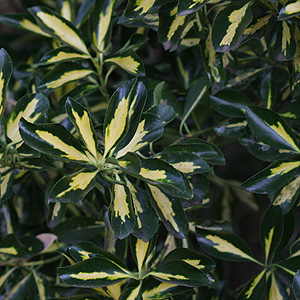 A small to medium growing evergreen shrub Euonymus japonicus comes in a number of varieties with many of the variegated forms being sought after as garden plants.
The common name is the 'Japanese Spindle Bush' and they are used in the garden as fillers, low growing ground covers as well as background shrubs.
Very popular due to the hardy nature, drought and frost tolerant and growing well in poor soils.
The variegated forms including Euonymus japonicus 'Mediopictus', pictured right, add extra color to thee garden through the year.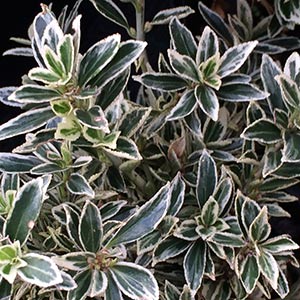 The upright forms are excellent as an alternative typeof low growing hedge or border plant.
Care
General Care
Position in full sun to part shade
Frost tolerant and drought tolerant once established
Growing well in USDA Zones 6 – 9
Pruning
Best carried out by tip pruning from a young age, although Euonymus japonicus does respond well to harder pruning if required. Best time to prune is in spring just after new growth has commenced.
Varieties
Tom thumb – Very low growing to around 2ft
Silver king – Mid green leaves with a silvery to creamy white margin, fairly upright.
Green spire – A more upright cultivar that can be used as a narrow hedge.
Pierrolino – New growth is almost white before maturing to a deeoer green. Will reach around 2ft
Green rocket – Dark green and upright to around 4ft
Chollipo – Deep green leaves with deep yellow margins.
Kathy – Mid Olive green leaves with near white margins
Euonymus japonicus is available for sale from the following nurseries
---

BLUESTONE PERENNIALS
Offering a wide selection of bulbs, perennials, grasses, herbs trees and shrubs.
ww.bluestoneperennials.com
CLASSY GROUNDCOVERS – fax: 443-773-5627.
PO Box 2556 city: Blairsville GA 30514