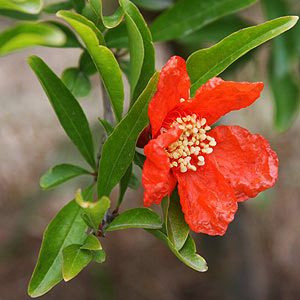 Punica granatum 'Flore Pleno' is the ornamental pomegranate, a tough flowering garden plant that makes an attractive small hedge or a feature plant in the border, low growing or dwarf forms are also available for sale from specialist nurseries in the USA
Used a hedging plant or a free standing shrub. The flowers appear in summer and are followed by small attractive fruits.
Dwarf forms that will reach only 2ft are also available Punica granatum "Flore Pleno" nana.
Try growing Punica granatum "Flore Pleno" in a container near a pathway or in a warm position in the garden border. Regarded as hardy to USDA Zone 7 and available as bare rooted plants in winter when dormant.
Pomegranate Trees for Fruit are also available.
Flowering Pomegranate Care
Like all pomegranates, the Flowering Pomegranate prefers growing conditions in full sun and requires a free draining soil.
Pomegranate trees seem to cope well with poor soil but will benefit from a humus rich soil. Regarded as drought tolerant once established, a little water during summer will help with growth, but do not over water.
Reaching around 9 – 12 ft if left un pruned Punica granatum "Flore Pleno" responds well to being pruned and works well as slightly informal hedging plant with the added attraction of red to orange flowers. Fruit can be left on the plant over winter as an interesting attraction
Where to buy
Flowering Pomegranate trees are available for sale from the following nurseries.
---
GARDINO NURSERY
Tropical plant nursery specializing in a wide variety of rare and unusual plants. Shipping is available to retail and wholesale customers nationwide. Our web site also contains lots of useful information on a variety of tropical plants (over 500 varieties) and a gardening guide.
www. gardinonursery.com