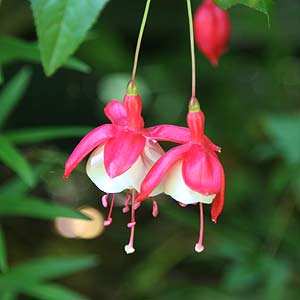 Fuchsia Plants and varieties for sale from mail order Nurseries provide a wide range of excellent hardy flowering plants for the home garden.
Sometimes seen as exotic, hardy fuchsias have been a stalwart in many gardens for centuries. They are tough plants, the flowers look delicate, however they are in fact a very easy and forgiving plant to grow.
Flower forms differ greatly , some are tubular and simple, others are extravagant and colourful.
These are plants for the garden as well as hanging baskets, so grow them on the patio, in containers or in the garden. You will find a Fuchsia for every occasion.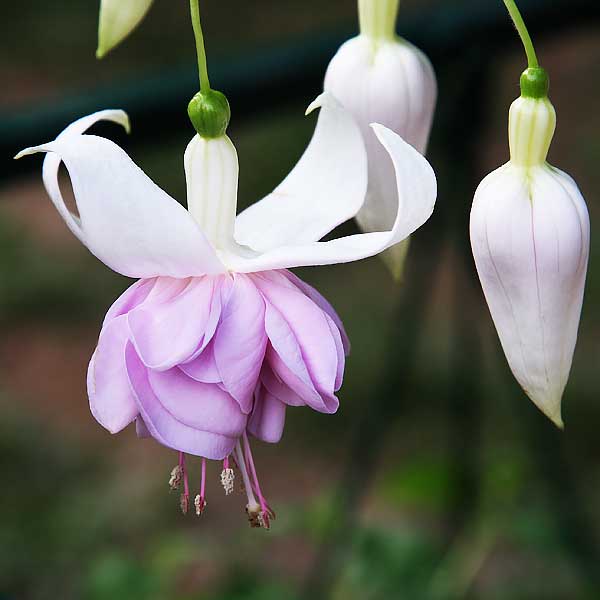 Fuchsia flowers came in a range of colors and have a long flowering period and with a little protection from hot afternoon sun and frosts Fuchsias will provide flowers in abundance.
Fuchsia magellanica – 'Aurea' or Golden Fuchsia is a lovely fuchsia with golden yellow foliage and small red flowers, a great contrast plant for the garden
Fuchsia Care
General Care
Fuchsia are fairly easy to grow given the right conditions. With fantastic flowers and coming in forms of, bush, trailing, upright and fuchsias for hanging baskets they are indeed a versatile plant.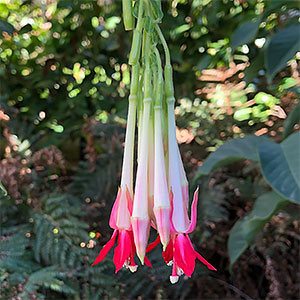 Originally from rainforest areas of South America fuchsias prefer filtered light and protection from hot drying winds.
Generally two growing types are available, upright fuchsias suitable for growing in pots or in the garden and trailing forms, widely used in hanging baskets.
Watering Fuchsias
Fuchsias prefer a humus rich moist soil, so in dry periods especially in summer regular watering is essential. Mulch around fuchsias to preserve water.


Pruning Fuchsias
Remember that fuchsias flower on new growth, so pruning will promote flowering. Prune in late winter to early spring and reduce fuchsia plants by 1/2 to 2/3rds
Varieties
Fuchsias could simply be divided into two categories.
Upright Fuchsias
Used widely in the garden as well a for growing in containers
Trailing Fuchsias
The best types for hanging baskets.

Or you could divide them into flower types, flower colors, species or winter hardiness.
Propagation
Generally very easy to propagate from cuttings, best taken from spring to fall, although not during very hot periods in summer.
Where to buy
Fuchsia Plants are available for sale from the following nurseries.
---
SEQUIM RARE PLANTS
500 N. Sequim Ave. Sequim, WA 98382
Small mail order nursery with a very interesting range of perennials and other plants. Includes: Fuchsia and many others
www.sequimrareplants.com