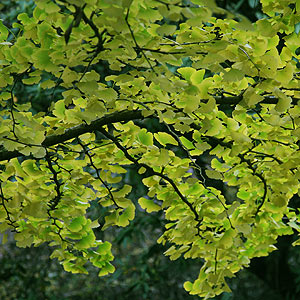 Ginkgo trees are one of the many fantastic deciduous ornamental trees available for sale online. They will reach up to 80 -90 ' but usually less in cultivation and they have a slow growth rate especially over the first 2- 3 years.
Description and landscaping uses
The Ginkgo Tree has lime green scalloped foliage, an upright habit and fabulous buttery yellow foliage in fall. The Ginkgo Tree, Ginkgo Biloba or 'Maidenhair Tree' is a great shade tree or feature tree for a south facing garden. Dwarf ginkgo trees are also available.
Seen as a prehistoric tree with its fern like foliage, the ginkgo has an attractive pyramidical growth habit, lovely green foliage from spring to summer that turns a buttery yellow in fall.
An excellent addition to a Japanese style garden but equally at home when planted in an avenue or a small group in a larger garden or park
Ginkgo trees make a great feature tree in the garden and are also used for bonsai.
Care
Best suited to USDA Zones 3 – 8.
These are a very long lived tree, and if cared for over the first few years will reward you with fantastic foliage from spring through summer. The buttery yellow foliage in fall is excellent.
Prepare the soil well by digging in some well rotted compost and manure before planting.
Stake young plants to ensure a strong upright habit.
Water newly planted Ginkgo trees in with a liquid seaweed fertilizer.
Maintain moisture through the first few summers.
Mulch around plants to maintain a cool root run.
Growth rate will depend on soil and climate, however we would class these as slow growing trees with a bit of a growth spurt after 3 years in the ground.
Larger specimens can be purchased during winter.
Pruning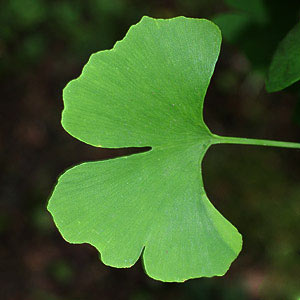 Generally Ginkgo trees require little to no pruning. You should remove any dead or damaged wood as you see it.
You should however try to train to one central leader. Sometime the leader will fork into two or more when the plant is a few years old. This can weaken the top of the tree later on.
Looking at Japanese Gardens
Varieties
Ginkgo Trees available for sale come in a range of cultivars so check out which of the Ginkgo Biloba or 'Maidenhair Tree' is actually offered for sale at the nursery.
They all have the trademark scalloped foliage pictured above right.
Varieties include :
Ginkgo biloba 'Mariken' which is a dwarf form well suited to growing in containers.
Ginkgo biloba 'Barabits' Nana' another low growing form to around 6 – 8′ (2m).
Ginkgo Biloba variegate has lovely yellow markings on the green foliage.
Ginkgo Biloba Saratoga is a more upright form with a good leader, a narrow habit.
More information
Ginkgo tree come as both males and females, the females will fruit if pollinated, however this fruit does tend to smell (and its not a good smell), it only lasts for a few weeks, however if you are planting close to your house or are concerned then look for tree for sale that are male.
However Ginkgo nuts are used in Asian cooking, the smelly outer skin and pulp of the fruit is removed to obtain the light brown nut containing a lighter edible section….. so you choose.
Where To Buy
Ginkgo Biloba trees are available for sale from the following nurseries and growers
---
CAMELLIA FOREST NURSERY – phone: 919-968-0504 fax: 919-960-7690
9701 Carrie Road Chapel Hill NC 27516
Includes Ginkgo biloba.
LAKE COUNTY PINES – phone 847-487-7408
29685 N Fairfield Road Grayslake Il 60030
Over 225 varieties of conifer trees many are dwarf conifers. You will enjoy these conifer trees in your conifer garden. Our conifer tree nursery has potted dwarf shrubs.
EASTWOODS NURSERIES – phone: 540-675-1234
634 Long Mountain Road Washington Virginia 22747
Specializing in mail order Japanese maples, ginkgos and a few conifers.