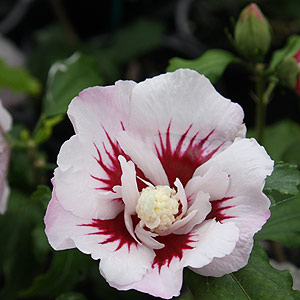 Rose of Sharon
If you are looking for a cold tolerant hibiscus, this is the one. Hibiscus syriacus is a deciduous hibiscus that will grow 6 – 12′ depending on conditions.
This is a fairly upright shrub with a tidy habit, easy to prune and long flowering. It attracts bees to the garden when in bloom and a great habitat for small birds.
Commonly called the Rose of Sharon is a bushy flowering shrub, we look at pruning and growing tips. Also known as the "althaea" or "althea,"the botanical name is Hibiscus syriacus
The species itself is Native to China, pink flowering with a red centre, flowering will begin in early summer and continue through until fall.
This is a deciduous shrub that belongs to the Malvaceae family and is not related to the rose family. It does have very attractive flowers and although the shrub itself can reach 12 ft in height it is very easy to prune to around half of that height.
It is the named cultivars that are the varieties most often grown, and many of these are smaller growing the the species itself.
When in bloom you will find flower colours from the lilac blues, through to reds and whites. Both single and double flowering types are available. One of the popular cultivars that are available include 'Red Ensigne', (see picture right).
In our mind one of the most attractive frost hardy hibiscus. White flowers with contrasting deep magenta red centres. Easily pruned and can be grown as a standard.
Foliage is a mid to light green with the leaves deeply lobed.
Excellent as a 'stand alone shrub' or grown towards the rear of the garden border. As it prunes easily this is a plant that can also be used as a hedge.
Care
Remarkably easy care given a humus rich moist but free draining soil. Hibiscus syriacus does not grow well in soils that are waterlogged.
Generally best suited to USDA Zones 5 – 9 The Rose of Sharon can be grown in cooler zones if given protection over winter.
An open position in full sun, with a humus rich well drained soil is best.This allows the plant to develop its best shape, and good sun and drainage help prevent disease.
This is a plant that requires annual applications of fertiliser to perform at its best. A regular application of well rotted compost along with liquid seaweed fertiliser works well as an organic method. All purpose slow release type fertilisers can also be used.
Usually grown as a shrub Hibiscus syriacus can also be espaliered for those with narrow spaces. Tolerant of sun, part shade and poor soils, all that is involved is some fertilizer in spring and pruning as required.
Pruning Hibiscus syriacus
We have seen plants that have not been pruned for many years and are still flowering well. Hibiscus syriacus is easy to prune, basically just find a bud and simply prune back as required.
Two types of pruning are carried out.
Formative pruning that determines the shape and number of stems or trunks that the shrub forms is foremost. This type of pruning allows the plant to be left as a bushy shrub, trained as a standard or even used as an espalier in smaller gardens or narrow spaces.
Pruning to size and bushiness is carried out annually, usually in early spring.
Or for more remedial pruning follow this regime. Remembering that heavy pruning can inhibit flower production for a year.
Remove any dead or damaged wood
Always prune at an angle of 45 to prevent rot
Prune away any 'crossover branches'
Cut back height by 1/3 looking for a bud to cut to
Prune away any very thin or weak growth.
Landscaping uses.
As this is a plant that responds well to pruning it can be used in a number of ways in the garden.
The attractive flowers make it a good feature plant.Ease of pruning make it suited for use as a screen or hedging plant.It is also a plant that can be grown as a background shrub in the general garden border.
This is a late flowering shrub The Rose of Sharon is also valued for providing flowers in late Summer to early Fall. Generally from July and August, through to September depending on the zone.
Being relatively drought tolerant once established lit is also valued in warmer dryish climates. In these areas we would recommend mulching well around the plant each year.
Hibiscus syriacus varieties
Named cultivars include single or double flowering forms, single colors, bicolors and tricolors. Suitable for Zones 5-8.
Varieties include:
'Jeanne d' Arc'
Pure white – double flowers.
'Helene'
White with red centres.
'Minerva'
Large lavender to mauve flowers in summer.
'Red Ensign'
White flowers with deep magenta red centres.
'Diana'
Pure white single flowers, named after the Greek Goddess.
'Bluebird'
Mauve blue flowers with a magenta centre.
'Ardens'
Mauve blue flowers with 'streaked' magenta markings in the centre
'White Chiffon' 
Pure white flowers.