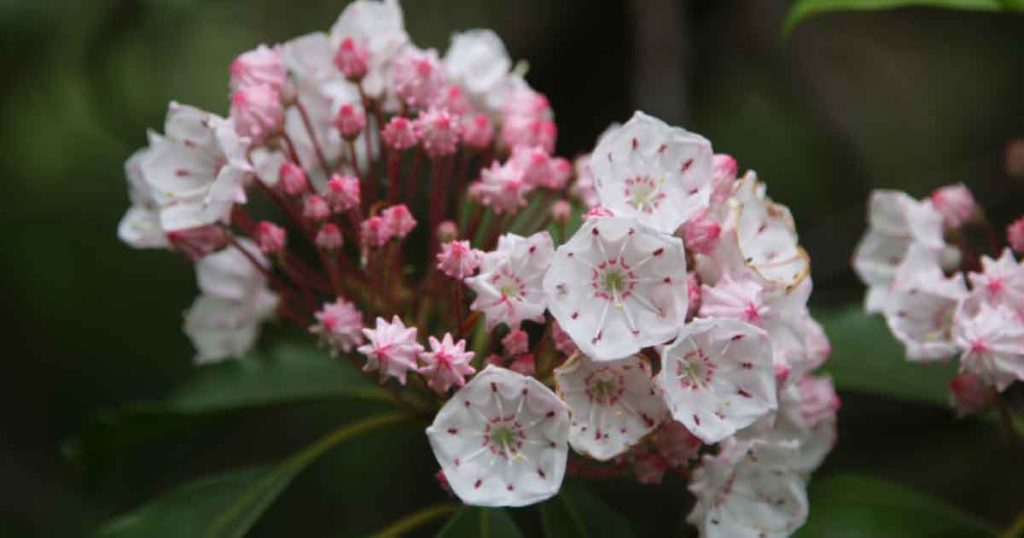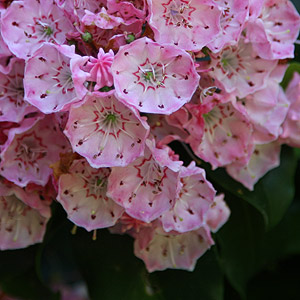 A native plant that often fails to get the attention it deserves, Kalmia latifolia is commonly called 'The Mountain Laurel'.
It is native to east coast from Florida Connecticut and widely used as a garden plant in other areas, but widely seen in gardens across Europe.
It is perhaps the new cultivars with brighter flowers that are getting the attention today.
Grown for the attractive flowers in spring this is a plant that rarely reaches more than 9ft in cultivation, in the wild twice this is not uncommon.
Although the species itself is popular, an interesting twisting trunk, good foliage and brilliant flowers, it is the cultivars that are adding extra interest with landscapers today.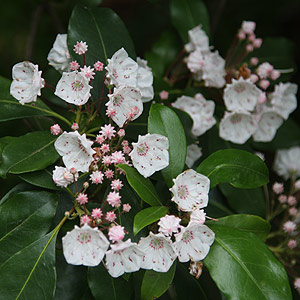 Growing naturally in the foothills and mountains it is best suited to USDA Zones 4 – 9. In colder zones it is a plant that will need protection in winter.
Care
How to grow the Mountain Laurel
In the right position the Mountain Laurel is an easy to 'no care' plant. Best grown in part shade and excellent beneath larger deciduous trees that offer both shade and some protection in winter.
Although regarded as drought tolerant once established Kalmia latifolia will require regular watering through the first few summers. We use a liquid seaweed fertiliser once a month on new plants. We also mulch around the plant to maintain a cool moist root run.
Best planted in an area sheltered from wind as the wood it reasonably brittle. Excellent when planted with Rhododendrons, Camellias and Pieris japonica .
How to Prune Kalmia latifolia
We have grown Kalmia latifolia for over 20 years and never had the need, or the urge to prune it. I am not sure that this means that it never should be pruned, however pruning is certainly not an annual event with us.
However, they can be pruned and if you want a very bushy, smaller plant then prune every year when young. A little bit like tip, pruning.
You can also prune back in early spring, just before the new growth commences, but the frosts have ended.


As for hard pruning. Yes you can prune back hard as Kalmias will push out basal shoots . So an old plant can be cut back by 2/3 and it should put out shoots lower down.
Kalmia latifolia Varieties
With some natural variation in flower color and size some cultivar selection and hybridisation has been carried out over the past years resulting in named cultivars.
Kalmia latifolia 'Sarah'
One of the best deep red flowering varieties, very deep red buds that open a little lighter in color. smaller growing to around 4ft.

Kalmia latifolia 'Snowdrift'
Wonderful white flowers on a plant that will reach 4 – 5 ft

Kalmia latifolia 'Kaleidescope'
An interesting variety with red flowers with a white rim. will reach 8ft in height.

Kalmia latifolia 'Elf'
The smallest variety we have seen, seems to stay at around 3ft, white flowers blushed with pink.

Kalmia latifolia 'Olympic Fire'
Dark pink to red flowers, 4 ft

Kalmia latifolia 'Raspberry Glow'
Another smaller variety, red buds that open to pink flowers
Kalmia latifolia or 'The Mountain Laurel' is available for sale from the following nurseries
---
BLOOM RIVER GARDENS
39744 Deerhorn Road Springfield, OR 97478
Phone: 541-726-8997 Fax: 541-726-4052