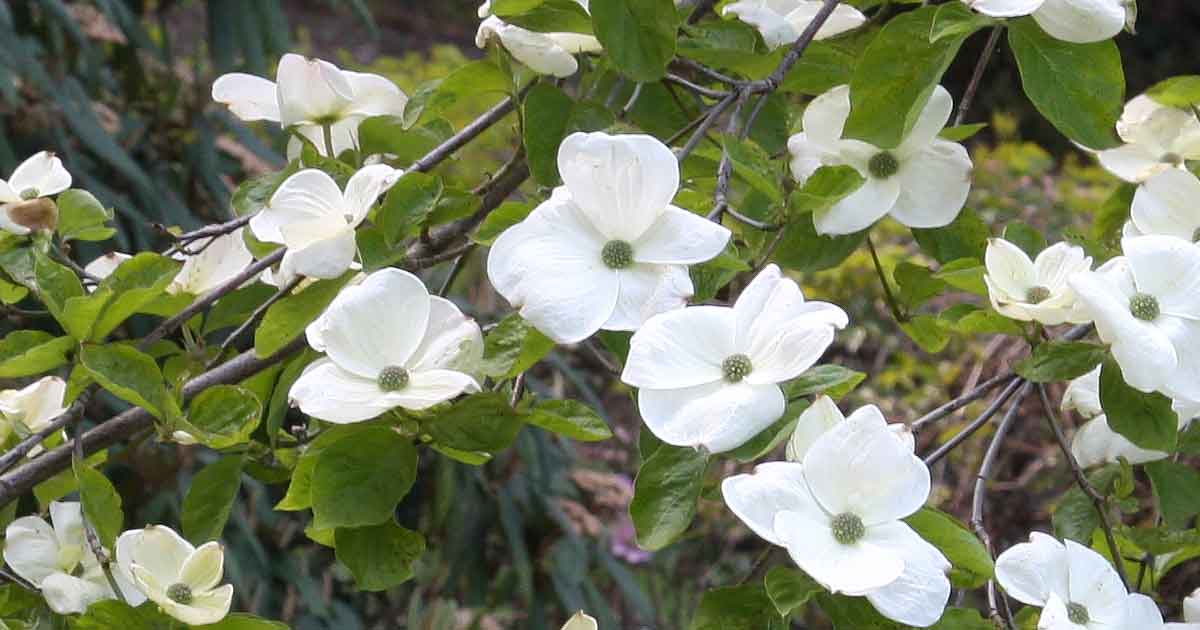 The Japanese Dogwood
A beautiful flowering tree from Japan, Korea and also China the Kousa Dogwood is a long lived tree and makes an excellent specimen for smaller gardens.
The Kousa Dogwood differs from other dogwoods in that the flowers appear after the leaves rather than on bare stems.
The flowers are very attractive and the only drawback is the fruits that can be a little messy, so plant the tree away from pathways and paved areas.
Like most trees the Kousa Dogwood needs to planted at a distance from houses, the root system is not regarded as invasive however we suggest planting at around 12 – 15ft.Once established this is a low maintenance tree and requires little to no pruning.
Although the flowers are attractive the Kousa dogwood also has other attractions, brilliant fall colours ranging from red to yellow, and attractive bark.
Kousa Dogwood varieties
Wolf Eyes, with its variegated foliage and white flowers is outstanding.
Satomi is an outstanding variety, probably the best of the pink flowering types.
Stellar Pink has pink flowers as the name suggests.
Gold Star has a touch of yellow near the centre of the leaves which again adds that extra interest.
Trinity Star is a semi dwarf variety and well worth seeking out.
How to Grow Kousa Dogwoods
Best in full sun, however in warmer climate zones a little protection from the afternoon sun will be beneficial.
Soil needs to be well drained, slightly acidic and humus rich.
Prepare the soil well before planting, dig over the soil to a size 3 times the width of the root ball. add some well rotted cow manure and do this a month before planting. Plant the tree at the same depth as it was in the container.
Water in well with a liquid seaweed fertilizer.
Mulching around the tree to maintain a cool moist root run is recommended.
Slow release organic type fertilizer applied in spring will improve growth. Scape back the mulch water well, apply the fertilizer and water again. Re-apply the mulch.
During dry summer periods, a deep watering every few weeks, along with the mulch will be beneficial.
Pruning Kousa Dogwoods
Pruning is not really required except for the removal of dead or damaged wood.
In smaller gardens, if you really wish to turn this tree into a shrub, you can prune back by 1/3 each year. This forces multiple stems which will produce more foliage and slow growth.