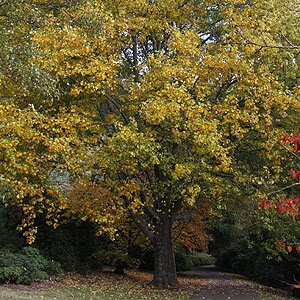 The tulip tree or American tulip tree is Liriodendron tulipifera, a tall growing tree used both as a broad spreading shade tree, and tall narrow screening tree depending on variety.
The flowers do look a little like a cross between tulips, upward facing, tulip shaped pale yellow to green with an orange base in the centre. The flowers appear on terminal shoots in spring to summer.
Best suited to temperate climates, the Tulip Tree thrives in humus rich deep soil, well drained but moist. It is a tree that grows well in full sun and is used as a street tree in many areas.
Care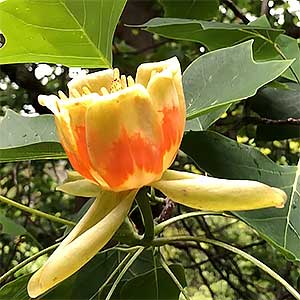 A tree for temperate climates, Liriodendron Tulipifera grows well in full sun to part shade. If does require a good soil to thrive.
It prefers a slightly acidic soil although it does tolerate a range of soil conditions.
A position with a humus rich deep soil will help ensure a good specimen.
Best in USDA Zones 4 – 10.
Varieties
Liriodendron tulipifera 'Fastigiatum' is the upright form popular in many gardens. With its narrow habit this upright form suitable for a screening plant
Propagation
The species can be propagated from seed.
Cultivars are interesting in that they can also be propagated from seed. However as many cultivars are close to sterile, plants are usually propagated by grafting from the more desirable forms to a sturdy rootstock.
Liriodendron tulipifera are available for sale from the following specialist nurseries.
---
LAKE COUNTY PINES – phone 847-487-7408
29685 N Fairfield Road Grayslake Il 60030