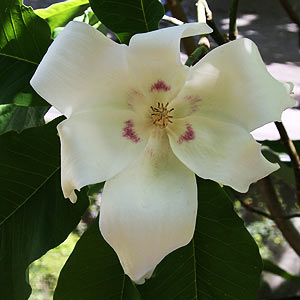 One of the wonders of the species Magnolia macrophylla subsp. ashei or as it is commonly know 'The Ash Magnolia' is rare but worth seeking out.
This is a deciduous species and it is from North America, which in itself makes it unusual. Found in Florida as well as Arkansas and Ohio, however it is only in Florida where it is not endangered in the wild.
This is a 'Big Leaf' Magnolia and the leaves can reach 50 – 90cm in length. Attractive mid to light green foliage with clearly marked veins.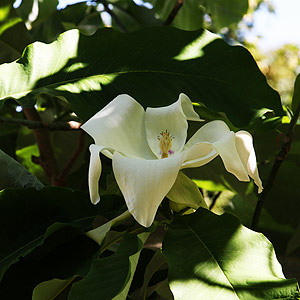 The flowers are white with a blush of red to pink in the inner of each petal. Flowers open like a goblet, upward pointing before opening fully.
The flowers appear after the foliage which distinguished this species from other deciduous magnolias.
In the natural environment this is a large shrub to small tree, around 20m in height. In cultivation usually much less and often around 5 – 10m. Pruning is not required although we have seen a few examples where they have been pruned.
Care
A humus rich moist soil well drained soil is essential. In warmer climates a position in part shade and protection from hot afternoon sun is certainly recommended.
Mulch well to keep a cool root run and protect from