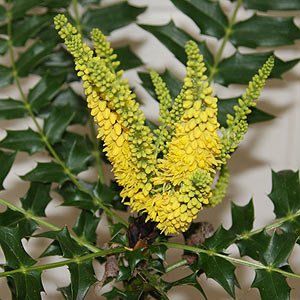 Winter flowering Mahonias are, hardy, interesting foliage, good yellow flowers, attractive berries and easy care. What is not to like about Mahonias, and as they will grow well in shade, and even flower, thats an added attraction.
Also known as 'Oregon Grapes' Mahonias are a fantastic winter flowering, cold tolerant evergreen shrub or tree.
A plant for year round interest in the garden, Mahonia have a number of garden worthy characteristics. Wonderful yellow flowers in late winter. Blue berries through summer and great foliage year round. They are also just about pest free and require little care once established.
So what are the drawbacks ?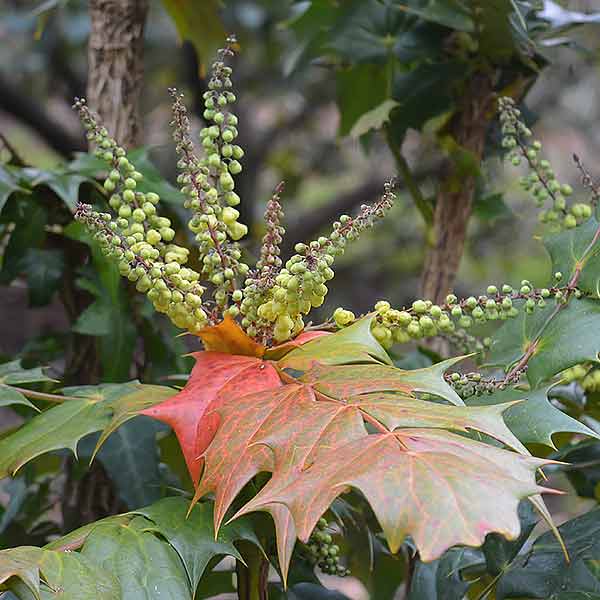 Probably the only problem is that birds love the berries. In rural areas they can spread the seed and Mahonias can become a bit of a weed.
The foliage on most species resemble holly and the fruits look like grapes, however Mahonia are not related to either. And species come from both China and North America.
Landscaping Uses
Taller growing Mahonia are an excellent choice for the rear of the border, while shorter and prostrate forms are useful in a range of landscape situations.
They are popular plants in the following states, Oregon, Washington, North Carolina, South Carolina, Georgia, Maryland and Tennessee
Mahonia Care
Mahonia prefer a humus rich but well drained soil, and all grow best in dappled or light shade. They can be fertilzed with same fertilizer used for Azaleas and Rhododendrons.
In general, the root systems of Mahonia do not seem to be overly invasive.
Varieties
Mahonia aquifolium, grows about 1m or 2 to 3 feet tall, and this species is the 'Oregon Grape', one of the hardiest of all growing well in USDA zones 5 – 10.
Mahonia lomariifolia is a large growing species from China, reaching up to 12ft in cultivation, taller in the wild. Also known as the 'Chinese Holly'.
Mahonia bealei is another species from China, also known as the 'leatherleaf mahonia) , the foliage feels little like leather. Will grow to 3m or 8 to 10 feet.
One of the really interesting forms is Mahonia eurybracteata 'Soft Caress', this is a species from China, smaller growing to around 3ft and forming a rounded shrub. It is spineless, hence the name. Hardy from USDA zones 7 – 11.
Mahonia repens is a dwarf variety growing to about 1/3m or 12in . This species is a slow growing, dwarf suckering shrub with great yellow flowers in late winter early spring. Mahonia repens works well as a ground cover, (shade or semi-shade)
We also have the interspecific hybrids including – Mahonia x media, these are early flowering varieties, closer to fall than spring.
Mahonia are available for sale from the following nurseries
DIGGING DOG NURSERY – phone (707) 937-1130
PO Box 471 Albion CA 95410
A spectacular selection of hard to find perennials, ornamental grasses, shrubs, trees and vines for your garden.
www.diggingdog.com