Mock Orange Plant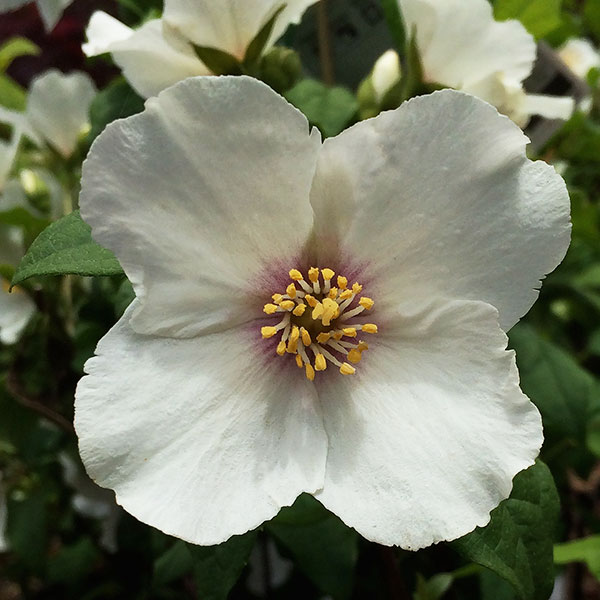 If you are looking for a perfumed bushy shrub then one of the Mock Orange varieties could be worth considering. These are Philadelphus species, and a good selection of Mock Orange plants are readily available for sale online. From a small to medium growing bush from the Philadelphus group of plants.
The low growing Philadelphus 'Manteau d'Hermine' is an exciting hybrid that makes a good ground cover plant. Taller varieties can be used as large shrubs to small trees at the back of the garden border.
A very fragrant plant and with flowers that give of and citrus orange perfume, they work well near paths and walkways in the garden and are suited as a hedge plant.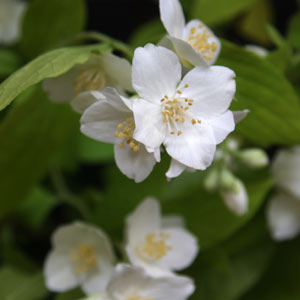 Mock Orange Shrubs and plants are deciduous and do require a little pruning to keep in shape.
You can find mock orange cultivars with double flowers, some dwarf varieties and some with larger flowers than others.
Available for sale online during the colder months when they are dormant, ready for planting so that in spring when the plant springs to life your garden can be filled with that delightful Mock Orange fragrance.
Mock Orange (Philadelphus) Pruning and Care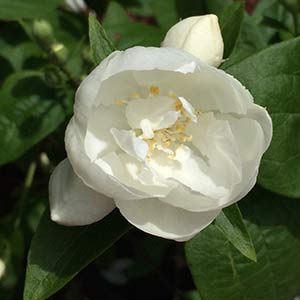 Philadelphus plants and bushes do well in dappled shade or at least with protection from hot afternoon sun.
Try to provide a cool root run by mulching.
Pruning of Mock Orange bushes can be carried out after flowering, remove any damaged or diseased wood, cut back remaining canes to promote new growth and maintain shape.
In older plants consider pruning out some of the oldest canes each year or two to maintain a strong and healthy plant.
Pruning Young Mock Orange Plants
Simply tip prune after flowering, cut back to a strong bud.
Pruning Older Mock Orange plants
Remove around 1/3 – 1/4 of the older branches each year until you get the plant back into shape.
Varieties
Mock orange (Philadelphus coronarius) is perhaps the most popular species used in the garden although it is mostly the hybrids with Philadelphus microphyllus that are most sought after.
Philadelphus x lemoinei 'Belle Etoile' is one such hybrid, small shrub that has white very sweet scented flowers, can be pruned back after flowering to keep in shape and promote new growth.
Philadelphus 'Beauclerk' with its largish white flowers with a touch of deep crimson in the centre is a prolific flowering Mock Orange cultivar, foliage is a nice mid to lime green.
Philadelphus 'Manteau d'Hermine' is a very low growing cultivar that will reach around 2 – 3 ft in height, often at the lower range.
Philadelphus Virginal is reasonably compact, large white double flowers in the summer months.
Dwarf Hybrid Mock Orange plants such as 'Miniature Snowflake' are an excellent choice for confined spaces.
Lewis' MockOrange Philadelphus lewisii this is a drought tolerant variety with smallish flowers
Mock Orange (Philadelphus) are available for sale from the following nurseries
BLUESTONE PERENNIALS
Offering a wide selection of bulbs, perennials, grasses, herbs trees and shrubs.
www.bluestoneperennials.com
DIGGING DOG NURSERY – phone (707) 937-1130
PO Box 471 Albion CA 95410
A spectacular selection of hard to find perennials, ornamental grasses, shrubs, trees and vines for your garden.
www.diggingdog.com