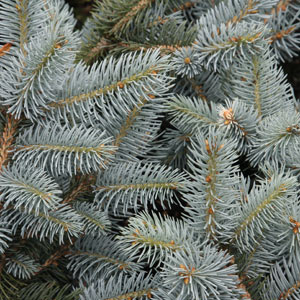 Used widely as a feature trees as well as privacy plant or screening tree, Picea Pungens or as it is commonly names, the 'Blue spruce is aptly named for the wonderful blue green foliage color.
With horizontal branches and a pyramidical habit, Picea pungens can give a strong formal look to a garden when used as a feature tree.
Most species and cultivars are slow growing when first planted and seem to 'speed up' once the root system becomes established.
Pictured right we have Picea pungens R H Montgomery, a slow growing compact shrub. Over time ( around 10 years) reaching around 2ft with a spread of 3ft. Excellent dwarf form for growing in containers or in the garden. Well suited to the rock garden.
Care
If planted in good soil, generally little extra care is required. Nearly all species and cultivars are regarded as suitable for USDA zones 3 – 7 with some suited to a wider growing range.
It is important to ensure reasonably good drainage. Additional water during the first few summers may be required.
Best grown in an open sunny position, in a cool to temperate climate.
Picea pungens Varieties
Blue spruce – picea pungens (colorado blue spruce or blue spruce)
Picea pungens hoopsii
Blue spruce with silvery-blue needles. 'hoopsii' is one of the best upright blue spruce for small gardens.
Picea pungens iselli fastigiate
A narrow growing form iselle fastigate will form a tight narrow spire. looks great along a drivway.
Fat Albert
Not really a dwarf form, but very slow growing.
Koster blue and 'Koster pendula'
Widely planted form of the 'blue spruce'.
Mission blue
Bright blue 'mission blue spruce' is a slow growing evergreen tree with a pyramidal compact habit
Picea pungens moerheimii
Moerheimii blue colorado spruce to 30ft nice blue form.
Picea pungens R H Montgomery
A slow growing dwarf form.
Propagation
These slow growing trees can be propagated in a number of ways
Stem cuttings – difficult
Grafting – Commonly grafted onto Picea abies rootstock
Tissue culture
Seed – A common way to propagate species
Summary
Humus rich moist well drained soils
Very hot summers are not suitable
Where To Buy
---
Blue Spruce or Picea Pungens varieties are available for sale from the following Nurseries
LAKE COUNTY PINES – phone 847-487-7408
29685 N Fairfield Road Grayslake Il 60030