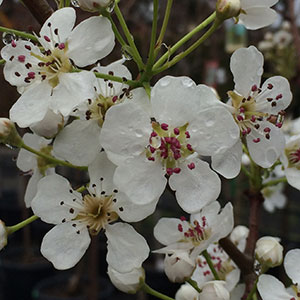 Pyrus are a group of evergreen trees, many varieties used in landscaping. Some are well known others perhaps not so well known.
The largest is Pryruss ussuriensis, the Manchurian Pear, reaching nearly 50 ft in height.
The smallest is Pyrus salicifolia pendular, usually grown as a standard to around 12 ft. most varieties are winter hardy from USDA zones 4 – 9. However, frost can play havoc with the flowering period.
They are able to withstand periodic dry conditions and are popular for the autumn color as well as beautiful spring blossom.
Ornamental Pears can be used as a screening tree, especially varieties such as Pyrus calleryana 'Capital' which has a more narrow or upright growth habit.
Landscaping Uses
Pyrus varieties are suited to a range of landscaping uses. Pyrus Calleryana and other ornamental Pears are favorite trees for street trees, landscaping and for use as feature trees in the home garden.
Spreading Shade Trees
Small feature trees
Varieties suited to use in narrow spaces
Shade trees for small spaces
Looking at Japanese Maples
Pyrus Varieties
The variety that we call the Callery Pear is one that varies greatly in form.
We have Pyrus calleryana Capital, an upright or columnar form that will reach around 30ft tall.
While Pyrus calleryana Aristocrat will reach 35ft with an oval crown
The weeping variety Pyrus salicifolia is worth a place in the garden.
Pyrus nivalis is another, a spreading form with a slightly weeping habit often called the 'Snow Pear', this variety will reach around 15ft.
Pyrus kawakamii is an evergreen flowering pear.
Pyrus Varieties are available from the following nurseries
---
DEAN'S EVERGREENS – phone: 856-881-3496 fax: 856-863-1666 542-1
Elk Rd, Rte. 538 Monroeville, NJ 08343