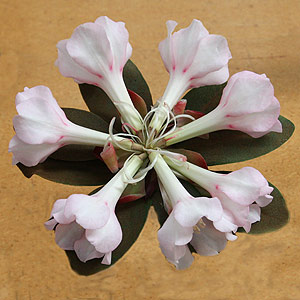 A fragrant Vireya Rhododendron from the higher foothills and mountains of New Guinea, Rhododendron Konori is rare in cultivation, yet highly sought after.
Rhododendron Konori (picture right) has large white (pink flushed) fragrant tubular flowers set in a wheel shape. Native to the mountains of Papua New Guinea. In a warm climate the fragrance is strong and this particular species is used widely in hybridising.
Many Vireya types will have Rhododendron Konori in their parentage somewhere.
Rhododendron Konori Care
Rhododendron Konori is a variable species it requires a humus rich moist soil with protection from hot sun. It does prefer warmth, so it makes an excellent plant for under planting in warm to temperate zones.
Although flowers are often said to pure white, this will depend at which time you are looking at them, they do open white, however they usually tale on a pink tinge as they age.
An annual application of a Camellia or Rhododendron fertilizer is usually adequate in good soil.
Remember that this is a variable species, so differences will occur.
You may also like