Commonly called the Rheingold arborvitae, Thuja occidentalis 'Rheingold' is a very popular choice for landscaping.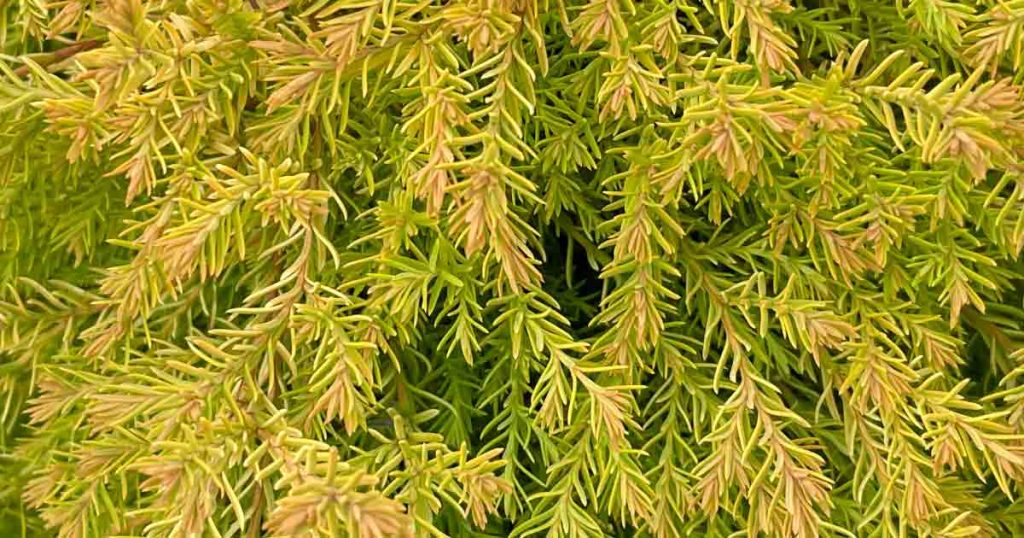 Relatively slow growing it can reach around 6 ft in height over 10 – 12 years and with wonderful coppery-golden lime green foliage is best planted in full sun.
The color of the foliage will change through the seasons with winters colder temperatures bring out more of the coppery tones.
Pruning
Like many Thuga occidentalis species this is a plant that can be pruned and by pruning each year you can easily maintain shape as well as form. Shape usually starts off as rounded and will naturally grow to a more conical shape.
The best time to prune is in late July to August.
The Royal Horticultural Society awarded Thuja occidentalis 'Rheingold' the Award of Garden Merit in 1993.
How to Grow Thuja occidentalis 'Rheingold'
This is a very cold hardy plant growing down to USDA Zone 3. Provide it with full sun in colder zones and at least a half days sun in warmer zones for good growth and color.
Lack of sun results in poor color, and as this is often used as a foundation plant you do want to make the most of its attributes.
The slow growing nature of the Rheingold arborvitae makes a very low maintenance plant.
When planting you must provide good drainage, try mounding up the soil a little to assist with this.
Summary Details
Botanical Name – Thuja occidentalis 'Rheingold'
Family -Cupressaceae
Common Name – Rheingold arborvitae, American Arborvitae
Origins – Believed to be a sport of Thuja occidentalis 'Ellwangeriana Aurea'
Position – Full Sun
Soil – Well drained humus rich
USDA Zones – 3 – 7 depending on position.
Height – 6ft over 10 years
Growth Rate – Slow
Foliage – Golden yellow to lime green with coppery overtones and aromatic.
Frost tolerant – Yes
Deer resistant – No – Deer will browse on this small shrub.