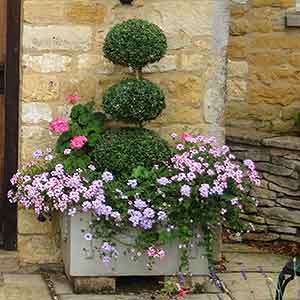 Topiary trees, shrubs, frames and plants for the garden for sale from both specialist topiary plant nurseries and general nurseries.
Topiary is the art of pruning and shaping plants into artistic shapes. Common topiary shapes are balls, spirals and pyramids, however topiary animals, corporate logos and 'cloud pruned' topiary shapes are also popular.
Good Topiary specimens of the more intricate shapes such as the spirals, tend not to be cheap, they will have been grown and pruned over 4 – 6 years. The more common shapes, such as the cones and balls are readily available.
How to grow Topiary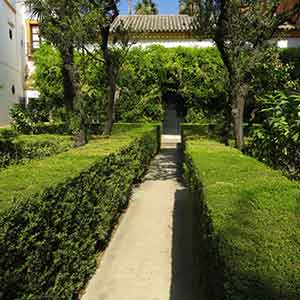 Topiary is the practice of pruning and training plants to form abstract, geometric of realistic shapes. Plants and trees such as Box hedging are clipped and trained to form topiary balls, spires, spirals and boxes as well as animal shapes and even company logos.
Trees and shrubs best suited for topiary tend to be quick growing and have small leaves and dense foliage. Topiary frames (wires) are often used as a guide for growing topiary Common topiary plants and trees include Buxus, Solanums, Ficus, Rosemary, Olives, Conifers, Yew and Hebes.
Cloud pruned topiary is very popular plants are pruned so that the foliage appears in 'clouds' on long stems. Hornbeams (carpinus) are used widely for 'Cloud Pruning'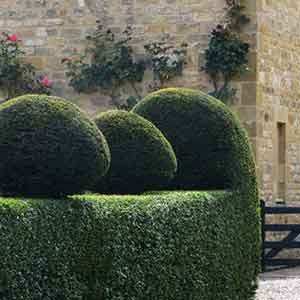 Topiary frames are made from wire, act as a guide for growing more intricate shapes such as animals.
Topiary combinations of hedges and balls make an interesting addition to the garden. (see picture right)
Topiary was once seen as being limited to plants such as Buxus varieties, however a number of species are now widely used to create Topiary cones, Balls, Standards, Cloud Pruned and
Species uses for topiary include trees and shrubs such as :
Acmena Smithii.
Syzygium.
Buxus microphylla.
Ficus microcarpa hillii,
Camellias.
Gardenias.
Laurus Nobilis (Bay Tree),
Murraya paniculata.
Ligustrum.
Evergreen Magnolias.
Portulacaria,.
Olives.
Hornbeam (carpinus),
Yew
Azaleas.

Different species of trees and shrubs are selected for different purposes, some suited to shapes such as topiary balls and cones, others better suited to pleaching or as standards, the common feature is small leaves, evergreen and dense growers.
Many conifers are also uses especially for topiary cones including, Thuja occidentals, Cupressus and Cupressocparis.
You may also be interested in
Hedging plants
Buxus
Magnolias
Camellias
Topiary Nurseries, Trees, Plants, and Frames are available for sale from the following nurseries

CHRIS' TOPIARY NURSERY
9004 Copley Lane Riverside California 92503 – phone: 951 352 3526 fax:
Topiary frames and moss filled topiary sold online. Shrub filled topiary sold locally in Riverside California.