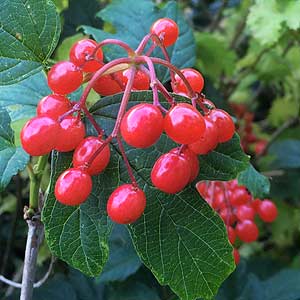 If you are looking for Viburnum with good flowers and added interest through fall then Viburnum opulus 'Notcutts' could be the one.
This ornamental bush is strong growing, deciduous and with a more robust look than many Viburnums. The autumn foliage is a lovely orange and red tone, and the added attraction is the masses of brilliant red berries that provide extra color well into fall.

This Viburnum opulus has deep green, glossy, heavily lobed leaves. Masses of small white lace-capped flowers adorn the bush in spring, 'Notcutts viburnum can form a good sized bush to around 10 feet.
Care
Viburnum opulus c. Notcutts is a real 'plant and forget' type. Once established it is quite drought tolerant. It tolerates most soil types, but prefers a well-drained, humus-rich soil in full sun or part shade.
Pruning
Simply prune back the older stems every 2 -3 years once the plant is established.
Summary
Botanical Name: Viburnum opulus
Common Name: Guilder rose, European Cranberrybush
Family Name: Adoxaceae
USDA Zone: 2-9
Height: 8 to 10 feet
Spread: 8 to 10feet
Growth Rate: Medium
Soil: most soil types
Light: full sun to light shade.
Humidity: Medium
Container Growing: no
Frost Tolerance: good
Drought Tolerant: yes
Viburnum plants are available for sale from the following nurseries
---

BLUESTONE PERENNIALS
Offering a wide selection of bulbs, perennials, grasses, herbs trees and shrubs .
Includes: Viburnum plicatum tomentosum, Viburnum carlesii, Viburnum Burkwoodii, Viburnum trilobum.
www.bluestoneperennials.com
DIGGING DOG NURSERY – phone (707) 937-1130
PO Box 471 Albion CA 95410
A spectacular selection of hard to find perennials, ornamental grasses, shrubs, trees and vines for your garden. Includes: Viburnum plicatum, Viburnum sargentii, Viburnum carlesii and others.
www.diggingdog.com