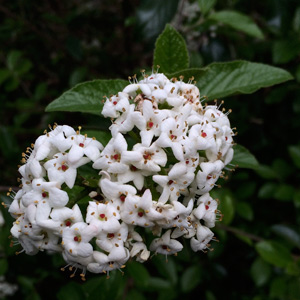 If you are looking for a shrub that has foliage, flowers, fragrance and can also be used as a hedge, then Viburnums have the lot. Landscapers love them for their versatility; they grow well in most soils and will flower in part shade as well as sun. There are more than 150 species to choose from.
Gardeners frequently include Viburnums as a backbone plant in the garden border, as well as in woodland settings. They are great for hedging and also make beautiful specimen plant. With literally dozens of garden worthy species and cultivars, they are just so useful in the garden that they are for sale in every garden center.
Well suited to many growing conditions, Viburnum are a versatile group of shrubs to small trees, best known for the 'Snowball Tree'. Although varieties do differ in requirements, Viburnums can be grown in USDA zones 2 – 9. They do well in full sun to part shade.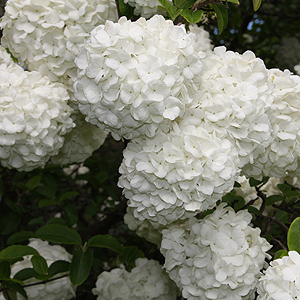 The smaller growing species and cultivars seem to be the most popular. The large flowered varieties are also very popular; however some species are grown for the wonderful layered branches as well.
There are some evergreen varieties and many deciduous Viburnum with wonderful Fall color.
Most Viburnums have white or pink flowers in spring and interesting clusters of fruit that will attract birds to your garden. Some flowers are very fragrant.
Viburnum Care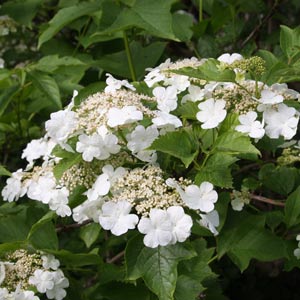 Viburnums are generally a 'plant and forget' easy care group of plants. However if you want to get the best out of them, a little care will go a long way. They do like moderately fertile soil.
Try to plant in early spring or in fall. These planting times put less stress on new plants.
Plant in full sun to light shade depending on the climate. Heavy shade is not recommended.
Dig in some well-rotted compost a few weeks before planting. Ensure that drainage is good.
After planting, water in well.
Mulch around plants to help retain moisture and a cool root run.
Additional water may be required through the first two seasons, or any very hot summers.
Pruning Viburnums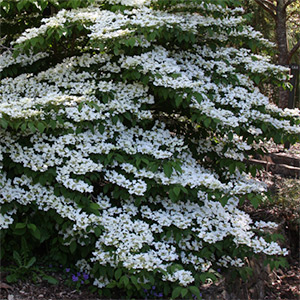 Nearly all Viburnum flower on the previous year's wood, some on new growth, but most on old. This flowering habit gives us a good clue as to when and how to prune them.
The best way to prune Viburnums is to do it selectively and regularly. Pruning also varies according to growth habit. The types that are slow growing and layer their branches horizontally will need little to no pruning on a regular basis if planted in the right position.
The upright fast growing types are best pruned each year once established.
Start by removing any dead or damaged wood.
Next look at the overall structure and size. If the plant is getting too big with lots of old wood, then you can remove 1/3 of this. Take care with the shape.
If it is getting too tall. Prune some of the more dominant leading canes back to a leaf node.
Viburnum plicatum does well in zones 5-9.
Propagation
Although the Viburnum species can be propagated from seed, nearly all of the garden varieties are hybrids and are therefore best propagated from softwood cuttings. Fortunately most varieties will strike very easily from cuttings taken in summer.
Varieties:
Many types, species and cultivars are available depending on use.
Viburnum for Hedges 
Viburnum Tinus– for a smaller leafed, slower growing hedge
For a larger hedge, the faster growing and larger leafed V. Odoratissimum is a better choice.
Viburnum for Flowers
Viburnum x juddii, is easy to grow with marvellous fragrant, white, snowball flowers in April. 7×6 ft dimensions, red to black fruit. Zones: 4-8
We also love Viburnum sargentii 'Onondaga', with its wonderful lace capped flowers that put many hydrangeas to shame. The flowers are maroon with white florets and the new growth is also maroon. The berries are a deep scarlet. This Viburnum requires moist soil in Zones 3-7.
The very popular Viburnum opulus 'Roseum' the 'Guelder Rose' or 'European Snowball Bush' is an old-time favorite. 10×7 ft dimensions; white snowballs in May, Zones 3-7
Viburnum opulus 'Notcutts' has lovely flowers and spectacular red berries that last throughout Fall.
Viburnum x bodentense 'Dawn' is a Winter flowering Viburnum with fragrant pink flowers that open to white. Zones 4-8
Viburnum macrocephalum 'Sterile', The Chinese Snowball tree. 6x10ft dimensions. The softball sized flowers start apple green before turning white in May. Showy flowers that are non-fragrant. This is the most impressive of the snowball viburnums.
Viburnum plictatum mariesii. The Japanese Snowball. This is a beautiful deciduous Vibernum with a pyramid shape and elegant tiered branches. Large, white flowers cover the branches in spring. Zone 5-8