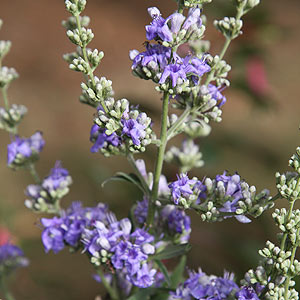 Vitex agnus-castus, Chaste Tree, Chasteberry, or Monks Pepper is a small tree or large shrub that will reach 15ft given time.
This is a deciduous tree that is grown as a garden ornamental and is also widely used in alternative medicine. It is fast growing and low maintenance.
This is a plant that is sometimes referred to as a herb, as it is grown for the essential oil, as well as sold as tea. However we are looking at the plant for garden uses.
Vitex agnus-castus has purple flowers in spring that look a little like those of Salvia or Buddleia, however they are held upright. When in full flower they cover the tree, are very attractive, and excellent for attracting birds, bees and butterflies.
Palmate leaves are aromatic and scented flowers on terminal spikes of new growth are followed by purple to black berries.
You can grow the plant as a large shrub if you wish, however we think is more attractive when pruned back annually to form a more compact bush.
Care
This is an easy care tree that will grow well in Zones 5 – 9. It will tolerate mild frosts, however heavy frosts in spring can be a problem.

A well-drained soil is essential so, in areas of poor drainage, plant Vitex agnus-castus on a mounded up area, or improve soil drainage before planting.

Easily pruned into a lower growing bushy shape, or trained to grow with a single trunk.
Popular species and cultivars include:
Vitex agnus-castus 'Montrose Purple' is a popular cultivar.
Vitex agnus-castus 'Fletcher pink'
Vitex agnus-castus var. latifolia 
Pruning
Vitex agnus-castus has the benefit of flowering on new growth. This means you can prune it back in spring, just as the frosts finish. In frost free zones you can prune it back in Fall to Mid-Winter if you wish.
If you wish you can train the plant to grow into a small tree, simply prune away the lower growth and then shape the head into a ball. You can also hard prune to around 2 inches in spring if you wish.
Summary Information
Botanical Name: Vitex agnus-castus
Common Name: Chaste tree or Chasteberry or Monks Pepper
Family Name: Aracaeae
USDA Zone: 6-9
Height: 4 to 15 feet
Spread: 4 to 12 feet
Growth Rate: Fast
Soil: loose, well-drained
Light: Light shade to full sun
Frost Tolerance: Light frosts only; Will die back in harsh winters but sprout again in spring
Drought Tolerant: Yes