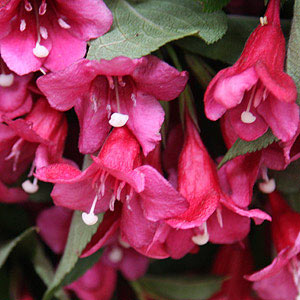 Weigela is a plant often found in well-established gardens and modern production as resulted in a large variety of these shrubs of all sizes and colors.
With long arching stems covered with masses of small, tubular flowers from spring to early summer Weigela make a colorful addition to the garden.
Weigela will have a less profuse repeat bloom in late summer. The large variety of colors make this plant a must for any type of garden.
The bell-shaped flowers cover the long stems and, as a small flowering shrub, Weigela grows well in USDA Zones 4 – 8.
The Weigela varieties range in height from 12 inches to 10 feet.
Care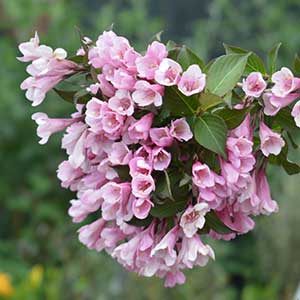 All varieties of Weigela are easy to care for, and most require very little pruning. However they can be kept to a preferred shape and size by light pruning after flowering in spring.
Weigela plants prefer a humus-rich, moist soil and grow well in semi-shade to full sun.
Mulch around Weigela plants to retain moisture and maintain a cool root run.
Weigela plants are attractive to butterflies and birds when in flower.
Propagate by stem cuttings.
Varieties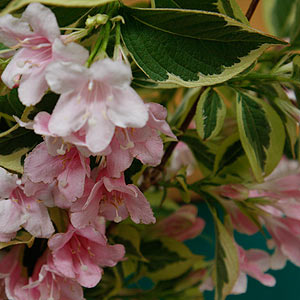 Weigela florida is the species from which most of the modern cultivars or varieties have been hybridized. Originally from China and Korea, over time they form a dense mounded dome depending on cultivar and conditions.
A variegated form of the Weigela is also available, usually pink flowers with deep green foliage margined with cream.
Named cultivars include:
Weigela florida 'Wines and roses' – One of the newer cultivars with deep rose red flowers with a touch of pink and good green foliage, smaller growing to around 5′.

Weigela florida 'Red prince' – Brilliant red flowers that seem to occur in two flushes, first in spring and again in early summer. We think this might be the longest flowering cultivar we have seen. Needing little to no pruning other than removal of dead wood and the occasional prune to shape.

Weigela florida 'Midnight wine' – A smaller growing cultivar reaching around 3′ in height Weigela florida 'Midnight wine' has attractive burgundy foliage with contrasting pink trumpet shaped flowers. Excellent in containers, in the border as an easy care filler or grown as a low hedging plant. well suited to growing in containers as a patio plant.

Weigela florida 'Tango' – Another smaller growing cultivar to around 3′. Pink flowers and good green foliage.

Weigela florida 'White Knight' – White trumpet shaped flowers on an 'old fashioned' sized bush. Reaching around 6′ in height with long arching canes.
Summary Information
Botanical Name: Weigela florida
Common Name: Weigela
Family Name: Caprifoliaceae
USDA Zone:
Height: 10 feet
Spread: 9 feet
Growth Rate: Moderate
Soil: moist and well drained
Light: full sun to Light shade.
Humidity: Medium
Container Growing: Yes
Frost Tolerance: Yes
Drought Tolerant: No