One of the easiest leafy greens to grow from seed, Swiss Chard is best grown in the vegetable garden in cooler months.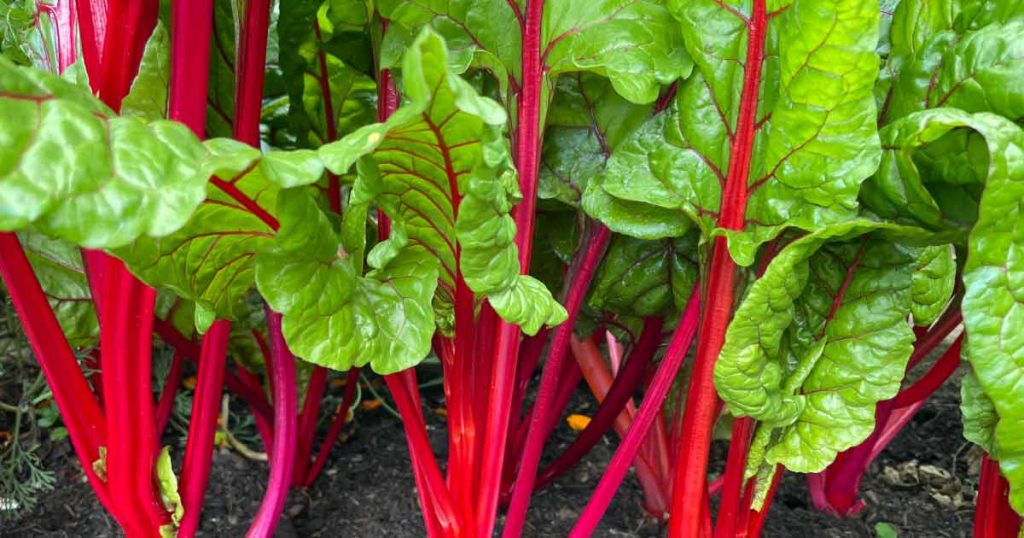 It can survive temperatures down to 15°F, however 32°F to 75°F is the best range.
Chard seeds can be sown directly into the garden or started indoors.
Planting Swiss Chard
Planting time depends on your climate zones. Avoid frosts and freezes, so plant from spring through to summer in colder zones.

Almost year round in warmer zones, and plant sequentially at around 6 weeks to provide a constant supply.
Soil For Swiss Chard
In the garden, prepare the soil well, digging over well and adding some aged cow manure and compost. Some blood and bone/bonemeal or any nitrogen rich fertiliser will assist with good leafy growth. A little slow release general purpose fertiliser dug through the soil before planting will also be beneficial.
How to Grow Swiss Chard
Soaking Seeds
This is optional, however soaking seeds in a liquid seaweed solution overnight before planting will speed up germination

Planting Distance and Depth
Seeds should be planted at around 1 inch (2.5cm) deep and around 4 inches apart. Once seeds germinate thin seedings to around 12 inches apart for full sized growth.
If you are growing Chard for small leaves and quick picking then you can plant it at around 2 inches apart. Great for adding young tender leaves to salads.

Watering
The newly planted seedlings need to be kept moist at all times to allow for good root development.
Once established plants can with stand some drying out, however a better crop will be obtained if the soil is kept moist. Mulching around the plants can assist with moisture retention.

Fertilising
Watering with a liquid fish and seaweed fertiliser every 3 weeks wi encourage good healthy growth.

Mulching
A good layer of garden mulch such as pea straw, lucerne, sugar cane or similar will help keep the soil cool and moist.

Weeding
Mulching will help suppress weeds, a regular visit with a dutch hoe will be the easiest way to keep weeds at bay.

Bolting
Bolting, or going to seed, is caused by dry soil and hot weather. Immediately remove any stems that show signs of producing flowers to prolong the usefulness life of the plants.

Overwintering
You can over winter chard my covering the plants with a layer of much to protect t them form frost and freezes. However, planting a new crop in spring is usually a better option.

Harvesting
You can Start harvesting leaves as soon as they reach a good size. Outer leaves are harvest first and inner leaves left for consecutive harvests.
More Information
Spanish Swiss Chard is often simply called Acelga or acelga suiza and a number of recipes using it are common.
Use it in a Rainbow Chard Tortilla, Try Swiss chard with raisins and pine nuts, or maybe Swiss chard with chickpeas. The traditional Acelgas con tomate and Acelgas a la Malagueña are others.