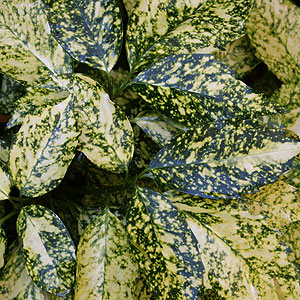 An evergreen shrub with large foliage Aucuba japonica has many uses in the garden. Most varieties are variegated, green with gold specks. An excellent background plant for shaded borders. Can be mass planted, used as a feature plant, or used as a hedge in shaded areas.
Regarded as winter hardy in USDA zones 7 – 9, wholesale growers offer a number of garden worthy varieties.
Excellent landscaping plants that can used as features in the border or as low hedging or screening plants, Low maintenance makes Aucuba a good choice for commercial application due to the low maintenance requirements.
Aucuba japonica Varieties
Aucuba japonica 'Gold Dust'
Aucuba japonica 'Mr Goldstrike' has more yellow in the center of the foliage and is a male form.
Aucuba japonica 'Picturata' has a more defined color separation in the variegation on the foliage.
Aucuba japonica 'Rozannie' a more compact form with all of the desirable characteristics of the larger forms.
Aucuba japonica 'Serratifolia' has longer foliage with serrated edges
Aucuba japonica 'Variegata' green foliage spotted with gold.
Wholesale Aucuba are available from the following Growers.
---
PANORAMIC FARM INC
3110 Tarlton Mill Road, Marshville, NC 28103.
Tel :(704) 233-4600
BRIGGS NURSERY and TREE Co
1111 Poinsettia Ave Vista CA
phone : 760 727-2727
JOHNSON NURSERY Corporation
985 Johnson Rd Willard NC
phone : 910 285-7861