Wholesale Lagerstroemia, Crape myrtle for sale in the USA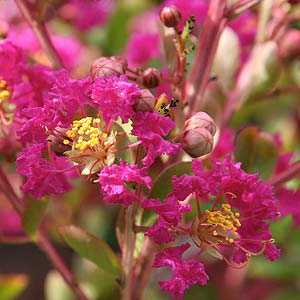 The perfect small tree for warm sunny climates, Crape Myrtles (Crepe Myrtles) are Lagerstroemia species and cultivars. They are generally available as container grown plants in from 1 Gal to 30 Gal containers from wholesale growers.
The species L.indica and L.faureie are the two most widely used in hybridization to give us the variety that we have available today. Available a small growing trees, dwarf trees and even shrub type plants they are one of the best summer flowering trees available.
Lagerstroemia, Crape myrtle varieties.
With a number of species being used in hybridization, growers have made great steps in improving both flower color and size with Lagerstroemia varieties in recent years. Smaller growing, or dwarf Crape myrtles are also available from some growers.
Lagerstroemia x Arapho is a fast growing Crape myrtle with brilliant red flowering tree and the first hybrid between L. limii, L.indica and L. faurieie.
Lagerstroemia x Dynamite is another red flowering variety.
Lagerstroemia x Muskogee has beautiful lavender blooms.
Lagerstroemia x Natchez wonderful white flowers good growth rate at up to 3ft a year in good soils once established. a L. faurieie x L.indica hybrid.
Lagerstroemia x Pink Velour another pink variety, not as bright as Tuscarora but very showy.
Lagerstroemia x Sioux is another pink flowering variety. more of a musky pink than bright.
Lagerstroemia x Tuscarora with its brilliant lipstick pink flowers help enlarge clusters.
Suppliers
---
JONES NURSERY COMPANY
538 Billy Jones Rd. Morrison, TN 37357
(931) 635-3205
Wholesale grower of Container, B&B, Shade and Ornamental trees. Specializing in Evergreens. Varieties Maples, Pears, Dogwoods and many more. Visit our website for more varieties.
Web: www.jonesnurserycompany.com
McGRATH GROWERS
6208 N 67th Avenue Glendale AZ 85301
phone: 623.847.6201 fax: 623.847.6241
Desert liner grower, including Acacia, Calliandra, Carissa, Dalbergia, Delonix, Geijera, Lagerstroemia, Olea, Parkinsonia, Vitex, Yucca.