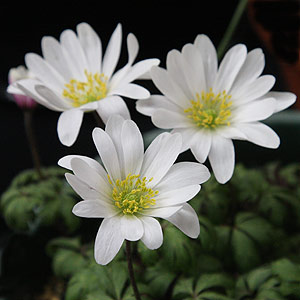 Anemones are often lumped together in gardening articles which is a shame as this diverse group of flowering plants and bulbs deserves more recognition.
They range from those that are clump forming perennials which form a mass of fibrous roots to smaller bulbs and tubers.
They also range from tall growing types that we often call 'Japanese Windflowers' to the low growing 'Wood Anemones'. From a glance most gardeners would not even see them as related. The foliage is vastly different for starters.
Anemone flowers are as varied and the genus, they come in shades from red, to white including blue flowers.
So investigate the world of anemones, you will be surprised at the varieties and how many different garden worthy plants are in this group.
Care
One thing in common is that they are usually easy to grow. And although growing conditions do differ.
A general call would be to grow them in a sunny to dappled shade position in a moist but well drained soil.
Varieties
Anemone ranunculoides
Anemone nemorosa
Anemone coronaria – The 'St Brigid' and 'De Caen' groups are very popular.
Anemone hupehensis
Anemone blanda or 'Greek Windflower'
Anemone hepatica or 'Hepatica nobilis'
Anemone hupehensis or 'Chinese Anemone'
Anemone canadensis
Anemone virginiana
Propagation
Propagation is from seed or by division of clumps or bulbs. However the many hybrids and improved forms need to be propagated by division in order to come true to type.
Anemone varieties are available for sale from the following nurseries
---
BLUESTONE PERENNIALS
Offering a wide selection of bulbs, perennials, grasses, herbs trees and shrubs. Includes:Anemone elegans, Anemone alice, Anemone honorine jobert.
www.bluestoneperennials.com