Aeonium haworthii or Pinwheel Aeonium is a succulent that is native to the Canary Islands. This a low growing species reaching only 2 ft in height. It will spread to over 3 ft and makes an interesting ground cover.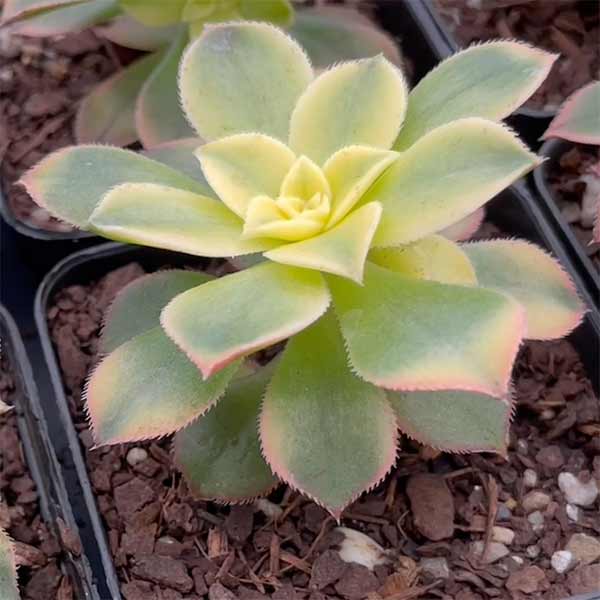 Haworth's Aeonium or 'Pinwheel' is one of the best known of the species with blue-green foliage and a dense, rounded, habit growing to 6 inches. It is the named variety 'Kiwi' that is really popular, this one shows great colour in cooler months.
Yellow flowers with a pink/cream tinge appear in spring to summer. Like many Aeoniums Aeonium haworthii does well in containers.
Aeonium haworthii care:
Full sun or part shade in light, well drained soil and a warm position. The amount of sun depends a little on the climate, in warmer zones, light afternoon shade is best.
This is a plant that can be grown beneath evergreen trees that have an open canopy, making it very useful in these dry conditions. As far as succulent dormancy goes, this one is summer dormant.
Propagation
Aeonium varieties are usually from stem cuttings taken when in active growth.
You may be interested in
Aeonium arboreum
Aeonium haworthii
Aeonium spathulatum
A number of varieties are available including :
Aeonium haworthii 'tricolour' – Foliage is green with yellow, and pale red edges or margins. Also known as Aeonium haworthii 'Kiwi'
Where to buy
Cactus and Succulent Plants For Sale – General Online Cactus and Succulent Nurseries
KARA CACTUS & SUCCULENT NURSERY
Succulent plants at a reasonable and fair price. We also specialize in rare seed-grown Haworthias, a good selection of Echeverias, Lithops and cacti.
www.KaraCactus.com