Aeonium sometimes called the 'Tree Houseleek' are originally from the Canary Islands and nearby areas. A succulent plant that is easy care and does well in pots and can make a great feature plant.
This group of succulents include : Aeonium arboreum, schwarzkopf, tabuliforme, atropurpureum and others.
One of the better ornamental succulent plants Aeonium species and cultivars make great container plants.
Care
Aeoniums can be grown in the garden in warmer climates however they do do like frosts and cold temperatures 0 to -2 and below will probably kill them.
The majority of Aeonium varieties are only hardy in USDA zones 9 to 10, Zone 11 is possible however the high humidity can be a problem.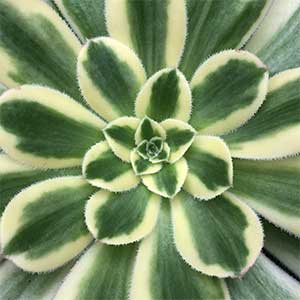 Grow Aeoniums in pots in colder UDA Zones, so they can be placed indoors during colder months. Aeoniums vary greatly in growth habit, some are low growing, others develop long stems.
Aeoniums can be cut back or pruned to get a more compact growth habit.
A free draining potting mix is best for Aeoniums and watering every week during the growing season will promote growth.
Try a liquid fertilizer. Heavy pots are required for the taller growing species to help keep them stable.
In terms of succulent dormancy Aeoniums are dormant in summer.
Popular species include Aeonium arboreum and Aeonium tabuliforme. Black aeonium cultivars such as Aeonium atropurpureum 'schwarzkopf' (zwartkop) While the smaller growing Aeonium haworthii is well know for the 'Pinwheel' and Kiwi' names.
Propagation
The species can be propagated from seed also easy from stem cuttings.
Cultivars are interesting in that they can also be propagated from seed. However as many cultivars are close to sterile, plants are usually propagated by cuttings or sometimes by grafting from the more desirable forms to a sturdy rootstock.
Aeonium are available for sale from the following specialist nurseries.

SEQUIM RARE PLANTS
500 N. Sequim Ave. Sequim, WA 98382
Small mail order nursery with a very interesting range of perennials and other plants. Includes: Aeonium and many others
www.sequimrareplants.com