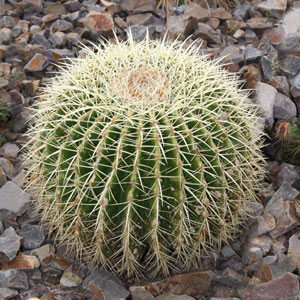 With so many types of cactus plants and succulent plants available for sale online it is easy to characterise many forms as generally drought tolerant. However individual species need to be closely examined to see which varieties make an interesting and appropriate addition to any garden.
Succulent plants make excellent house plants and can many smaller types can easily be grown in pots or containers. The Barrel Cactus (pictured right) is just one form of succulent that is useful as a landscaping plant
Most are easy to care for, require very little water and are easy to grow in the garden given proper drainage.
An important factor in care is knowing when your succulents are dormant, some are winter some are summer, find out when your succulents are dormant here.
Landscaping Uses :
With large hardy outdoor varieties as well as smaller growing types well suited to container growing both cactus and succulents in general have a range of landscaping uses.
Buying Succulents Online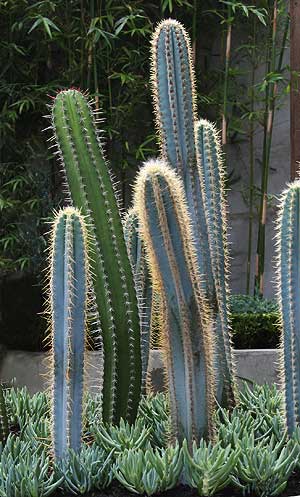 Available online many types of cactus and succulent plants can be purchased as young (seedling) plants and be ordered by post, larger plants are not cheap to send by post because of the weight and packaging problems.
Most succulents will grow well in zones 3 – 9. In those colder zones special instructions should accompany plant to ensure successful overwintering.
In general succulents are dormant over winter and will not be shipped by mail until spring. The exceptions are those grown in the warmer climates.
Seeds are also available for sale, usually with growing instructions for the enthusiastic grower, small plants such as Lithops are much easier to buy by mail order.
Cactus and Succulent Varieties
Find Cactus and Succulents for sale by type or species
With lots of descriptions and photographs to help you with identification and selection.
Aloinopsis
Euphorbia
Haemanthus
Ornithogalum
Senecio
Propagation
Propagation is for both Cactus and Succulent plants is either from seed, from cuttings, both leaf and stem or by division of offsets, often called 'Pups'. The method of propagation will vary depending on variety.
The Difference between Cactus and Succulents
All Cactus are Succulents, however all succulents are not cactus. And although it would be easy to say that cactus have spines, and succulents do not, this is not true for all.
Cactus have Areoles, the spots where their spines or thorns grow from, usually sort of white lumps, but sometimes dark. However not all cactus have spines. And flowers, side shoots stems and even roots can also come from the Areoles.
Some succulents also have spines, but no succulents have Areoles.
Where to buy
Cactus and Succulent Plants For Sale – General Online Cactus and Succulent Nurseries

KARA CACTUS & SUCCULENT NURSERY
Succulent plants at a reasonable and fair price. We also specialize in rare seed-grown Haworthias, a good selection of Echeverias, Lithops and cacti.
www.KaraCactus.com

SILVERTHORN RANCH NURSERY
1826 S. Alturas St. Fallbrook California 92028 – phone: 760-728-9051 fax:
Wholesale growers and online suppliers of Agaves, Cactus, Succulents, Yuccas, Euphorbias.
www.silverthornranch.com

GULF COAST GREENERY
Collection of amazing container plants. many Sizes. Wholesale and Mail Order. Order Online. Includes: Noctocactus, Mammillaria, Echinopsis, Echinocereus, Opuntia, Ferocactus, Parodia, Stenocactus
www.gulf-coast-greenery.com